Bet365 - T&Cs apply : Sports betting | Casino | Poker | New Customers Only | Commercial content | 18+
A little over a decade ago, South Melbourne FC took part in the FIFA Club World Championship as champions of Oceania, trying their luck in a group containing England's Manchester United, Brazil's Vasco da Gama and Mexico's Nexaca. South Melbourne could then claim to be Australia's most successful club, winners of four National Soccer League titles. Lots of supporters bets on this club with bet365 offers
Within five years of their Club World Cup appearance, South Melbourne FC had fallen on hard times, slipped into administration and did not even apply to join the new A-League, Australia's premier division, set-up after the demise of the National Soccer League.
This month, South Melbourne FC took a welcome step towards something of a rebirth, as their home ground, Lakeside Stadium, reopened following a major renovation. The Age newspaper expounded that "Like Lazarus, the old South Melbourne football ground in Albert Park has risen from near-dereliction . . . And a pretty splendid vision it is, too."
Indeed, it is. Designed by H20 Architects, the 14,000 capacity stadium is part of an AUS$60 million development on the lake in Albert Park. The photos below show the transformation of the venue: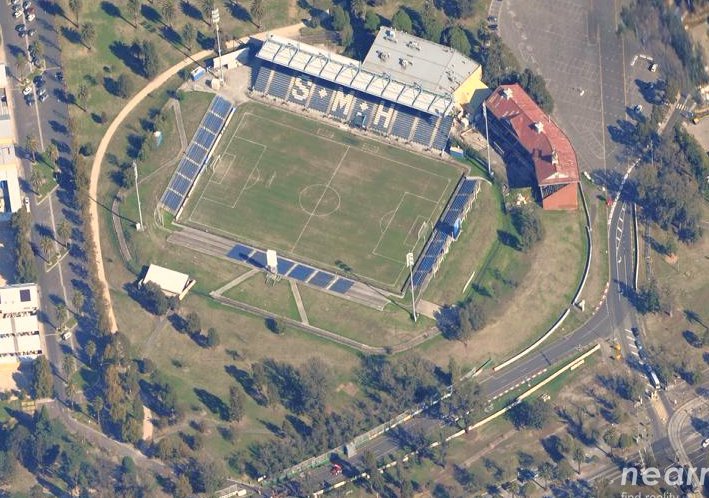 The stadium is not perfect, by any means. There is, obviously, a strikingly blue running track encircling the pitch, as the stadium doubles-up as a track and field venue. Indeed, its refurbishment made it the premier athletics stadium in Victoria state, following the demolition of Olympic Park Stadium in Melbourne – a central reason for the state funding behind the development.
Yet in terms of the quality of the pitch for the game of soccer itself, Lakeside Stadium does have something going for it that many other Australian stadia do not: it doesn't double up for rugby or Aussie rules. "We don't have to share this ground with any of the other football codes, which means the surface doesn't get damaged by rival codes and with no scheduling problems around other codes," Melbourne South President Leo Athanasakis told Four Four Two Australia.
The club itself is hopeful the new stadium will kickstart a revival. Their storied past includes management spells by Ferenc Puskás and Tommy Docherty, and they once tried to purchase Denis Law and Bobby Charlton.
Hellas
South Melbourne FC was founded in 1959 through a merger of two clubs, Hellenic and Yarra Park, and became known as South Melbourne Hellas. The club found immediate success, winning the Victorian Metropolitan Division 1 North championship in 1960.
As the name indicates, Hellas were – like most Australian teams of the time – ethnically based, in this case in the Greek community. A number of Hellas' players arrived from Greece in the 1960s, including John Margaritis, Savvas Salapasidis, Takis Mantarakis and Takis Xanthopoulos, according to the club's official history. But not all of Hellas' greats were Greek: former Manchester United trainee Ernie Ackerley became one of the club's leading goalscorers in the 1960s. Hellas played at Olympic Park – Lakeside Stadium (originally known as Bob Jane Stadium) was not built until 1995 – and attracted crowds exceeding 10,000, including over 14,000 for an Australian Cup clash in 1962 with Juventus – the Sydney version. That year, 1962, saw Hellas win the Victorian State Championship for the first time.
But the connection to Greece was undoubtedly the club's selling point. Also in 1962, Hellas played the Greek Air Force in what The Age trumpeted was "the most ambitious venture undertaken by an Australian soccer club". The Greek Air Force's appeal was that due to the country's National Service, it featured some of the leading national team players on tour, and the series of friendlies in Australia was an expensive affair.
The club's chairman, Thesues Marmaras, became a key player in Australian soccer, appointed as president of the Victorian Soccer Federation, this giving the club considerable power nationwide (in 1964, he was accused of collusion with a referee in a dispute with Fiorentina Soccer Club). Crowds continued to grow, reaching 20,000 for a clash between Hellas and Juventus in April 1966. That was in part due to the shrewd acquisition in 1965 of player-coach Kostas Nestoridis, a well-known Greek international. Hellas won the state championship in 1965, 1966 and 1967.
But by the end of the decade, the expense of acquiring native Greek talent became too much of a drain for the club, with results on the pitch far from reaching expectations: they finished fourth in 1967, third in 1968 and a poor seventh of 12 clubs in 1969, though they did win their first cup in the latter year.
In the early 1970s, the club's identity shifted slightly – on the field at least – from Greek-domination. A number of English players were imported, alongside an infusion of local talent, such as striker Jim Armstrong.
Hellas finished fifth in 1971, but claimed the runners-up spot in 1971 and then won the state championship for the fifth time in 1972. In 1973, Hellas made an audacious bid to sign both Denis Law and Bobby Charlton, offering AUS$170,000 to sign the pair from Manchester United. Though neither arrived in Melbourne, further state titles followed in 1974 and 1976.
The National Soccer League
That run of success was timed perfectly for Hellas' bid to become inaugural members of the National Soccer League in 1976. South Melbourne (as they eventually became known), though, were not ready for the big time of national competition. With competition for players increasing, South lost several of their leading stars, finishing 11th of 14 teams in 1976, a respectable third in 1978, but a dismal 14th of 14 in 1979. That year, South Melbourne was stricken low when three points were deducted for playing defender Tony Turner before he had received international clearance. The club's official history calls it "the lowest point in the club's NSL history and arguably in its entire history," and says that "There were real fears that South would not be re-admitted into the League the following season." Instead, Sydney Olympic were relegated.
From that low point, South Melbourne – now nicknamed the "Gunners"  – consolidated their NSL position in the early 1980s, with the emergence of talent such as Alan Davidson. They finished third in 1980 and second in 1981.
In 1982, that smooth progress was interrupted by a curious period for the club: after a poor run of results, coach John Margaritis was replaced by former Manchester United boss Tommy Docherty. Margaritis' last days were miserable: The Sydney Morning Herald reported in May 1982 – after a defeat for the Gunners against the Marconi Leopards – that "Speculation has been rife that South Melbourne FC are ready to dump coach John Margaritis in favour of Docherty. . .Margaritis, knowing his job is on the line, was a lonely, dejected figure after yesterday's match. He sat by himself in a corner of the dressing room, his drawn face and sad eyes telling the story."
Docherty himself only lasted a few months at South Melbourne, a bright start under his rein petering out and the club finishing in sixth place. Docherty soon left, taking over at Sydney Olympic, where he had coached previously.
Yet the curious episode presaged a revamp in South Melbourne's recruitment, and a glorious period for the club: fourth place in 1983 was followed by their first national championship in 1984, beating Sydney Olympic 4-2 over two legs. Crowds again regularly exceeded 10,000.
But South could not consolidate their success, and in the remainder of the decade, finished no higher than third place.
The solution to a return to glory, it seemed to South Melbourne FC's management in 1989, was Ferenc Puskás. The Hungarian great was, of course, best known for his playing days, but he was also something of a legend in Greek circles, having guided Panathinaikos to two Greek championships and the 1971 European Cup final (they lost there to Cruyff's Ajax). The 1980s, though, had been  rough for Puskás, who had achieved little recent success in an increasingly itinerant coaching career.
Puskás did not arrive a moment too soon. The club's mediocrity in the latter part of the 1980s had seen crowds dwindle, and the club in debt to the tune of AUS$300,000.
By early 1990, Hellas president George Vassilopoulos was crediting Puskás with having turned the club around almost immediately. "As far as the financial situation goes, he has created excellent publicity for the club and the money is now rolling in," Vassilopoulos told the Melbourne Sunday Herald. "We had a debt of $300,000 at the end of the last NSL season and we have already cut this in half."
With a fine midfield combination of Mike Peterson and Steve Tassios around whom to build the team, Puskás' team improved immediately. They finished second in the regular season in 1990, though fell in the first leg of the playoffs, losing in a penalty shoot-out to Melbourne Croatia.
In the Grand Final, South Melbourne again took on local rivals Melbourne Croatia in a thrilling game. Despite being outplayed throughout the game, South Melbourne stole an equaliser with just a minute remaining in the game, sending it to extra-time and ultimately penalties.
Here's the last part of the game's normal time – skip to the 6:40 mark to see the equaliser, and some impressively wild celebrations from the fans:
And here is the decisive penalty shoot-out, won by South Melbourne to seal their second National Soccer League title:
The 1991-92 season that followed was Puskas' last in charge, with South Melbourne finishing third and failing to make the Grand Final. Former South player Jim Pyrgolios took over, and while the club fared very well in the regular season, the playoffs were an utter disaster: South lost all three of their games, including a humiliating 7-0 defeat to Marconi.
The next couple of years saw little excitement, bar an eventful playoff game that saw South Melbourne miss the chance of a Grand Final appearance with defeat to Sydney Croatia at Parramatta Stadium, a game that hit the evening news as crowd trouble broke out:
In 1995-6, following the closure of Middle Park, South moved into Bob Jane Stadium. Yet the club's identity was threatened as the Australian governing body insisted on new identities for its NSL clubs, in an attempt to give them generic glamour and remove them from their ethnic roots: South Melbourne suddenly became the the "Lakers", with a hideous new crest to boot (along with a threatened lawsuit from the Los Angeles Lakers):
The 1997-8 season was a great success, with South Melbourne –  the "Lakers" identity having been quickly consigned to the dustbin of history – ending the regular season as champions, fired by John Anastasiadis' 12 goals – the Greek forward had recently arrived from PAOK. 14,850 spectators packed out Lakeside Stadium for a win over that sent them to the Grand Final. There they faced Carlton, and Con Boutsianis gave South Melbourne the win and their third title with a late goal in a 2-1 win, scoring with a smashing strike:
The next season cemented South Melbourne's place as the nation's premier club, successfully defending their title. A watertight defense marshalled by goalkeeper Michael Petkovic saw them concede only 29 goals in 31 games, and go unbeaten at Lakeside Stadium.  That sent South Melbourne to the Oceania Club Championship, which they won in handy fashion to advance to the FIFA Club World Championship. There, South Melbourne lost each of their three group games by two goals, but they did get to do what not many can say they have done: play Manchester United at the Maracanã in Rio de Janeiro.
Yet their intercontinental exertions overstrained what was still a semi-professional outfit, as South Melbourne slipped to tenth in the league. That perhaps spurred the club's decision to turn fully professional for the 2001-02 season, and they returned to form, finishing second in the regular season. They advanced to the Grand Final, with 2,000 South fans making the trek to New South Wales as they took on Wollongong. But a 2-1 loss meant South forfeited their perfect record in Grand Finals.
Mediocrity was an unfitting end to South's National Soccer League tenure with mid-table finishes the next three seasons, one abruptly cut-off by the disbanding of the NSL at the conclusion of the 2003-04 season. Since then, until the opening of the renewed Lakeside Stadium, there has been little to brag about for South fans. But with Lakeside Stadium now gleaming, whispering of a move up to the A-League has begun, and perhaps new glory days are to come.
---
Find bet365, William Hill, Pady Power, Betfred offers