Bet365 - Terms and conditions apply : Sports betting | Casino | Poker | Terms and conditions apply : William Hill - Sports | Casino | Poker | Vegas | Live Casino | T&Cs apply | Wagering and T&Cs apply | Commercial content | New Customers Only | 18+
Now that Euro 2020 is just around the corner, it's time to make sure you know all about the teams playing in each of the Euro 2020 groups so you can make the best betting choices. In Group A, we have Italy, Turkey, Wales and Switzerland. It's this group that will kick off the entire championship when Turkey and Italy face each other at 9 pm on 11th June 2021.
Euro 2021 Group A Odds
| Group A Winner Odds | bet365 | William Hill | Betfair | Paddy Power |
| --- | --- | --- | --- | --- |
| 🇮🇹 Italy | TBA | 8/15* | 8/13* | 8/13* |
| 🇹🇷 Turkey | TBA | 6* | 6* | 5* |
| 🏴󠁧󠁢󠁷󠁬󠁳󠁿 Wales | TBA | 7* | 9/2* | 9/2* |
| 🇨🇭Switzerland | TBA | 9/2* | 13/5* | 13/5* |
| View all odds  | | | | |
*Odds are subject to change. Last updated August 2020.
Euro 2021 Italy Odds To Win The Group
When it comes to the Group A Euro 2021 favourites, there is no denying that Italy are the first to come to mind. The arrival of Roberto Mancini as manager has had a massive effect on their chances, as he has increased their defensive solidity and made them a force to be reckoned with. They topped their qualifiers, scoring 37 goals and conceding just four.
While Italy are the Group A Euro 2021 favourites, that doesn't mean punters shouldn't look at the other teams. In fact, because the Italians had such an excellent record during the qualification round, the Euro 2020 Group A odds offered for the other teams in the group will be of good value.
Meanwhile, Turkey were a force in the qualifying stages and only lost once, against reigning world champions France. They finished just two points below the French in their group, so the Italians will be well aware of the threat that the Turks pose.
Gareth Bale is the Welsh star, and with the best player in the group at their disposal, Wales will have a chance and could be an option for those betting on Euro 2021 Group A.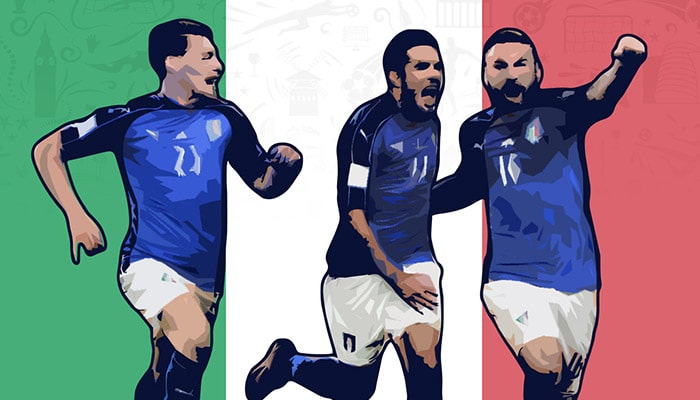 Match Schedule Group A
Before thinking about betting on Euro 2021 Group A, it is important to look at the match schedule to find out when the teams go up against each other. This could impact the chances that teams have, as the teams with a better chance will like to play the lower-ranked sides earlier so they can safely secure their passage.
Euro 2021 Group A is one of the few groups that has been officially confirmed for a while. Italy will be the main favourite for those betting on who will win the group, while Turkey, Switzerland and Wales will likely fight it out for the second automatic spot.
Turkey will go against Italy in the group's opening game on the 11th of June before Wales and Switzerland meet on the following day.
Wales then go against Turkey on the 16th of June, while Italy hosts Switzerland later that evening. Both of the final Group A fixtures take place on the 20th of June when Switzerland play Turkey, and Italy host Wales.
Standings Overview Group A
The opening round of fixtures in this group will be insightful for those betting on Euro 2021 Group A. Italy face a stern test against Turkey, while Wales come up against the highly-ranked Swiss. The winners from these two games will be in good shape to progress to the Round of 16.
The Italians have an excellent record against Turkey, as they have never lost against them and have won eight of the previous eleven meetings. Meanwhile, Switzerland will be confident that they can win against Wales as they have beaten them on five occasions in the past.
If the teams making it through to the Round of 16 are still up in the air on the group's final matchday, then it could be intriguing to see the Euro 2021 Group A odds. Wales have a poor record against Italy, as they have only won twice in nine meetings. Meanwhile, Turkey has the advantage over Switzerland as they have won on eight occasions in the past compared to Switzerland's four wins.
Group A Of Euro 2021: Analysis
In this section, we will have a closer look at the four teams that will be hopeful of being the Group A Euro 2021 winner. But, which of these teams has the most realistic chance of achieving this?
🇮🇹 Italy: Euro 2021 Group A
The 2006 World Cup winners will be the favourites for those betting on Euro 2021 Group A. They had a perfect qualifying campaign, with ten wins out of ten. They have an excellent track record at international competitions and reached the final of the European Championships in 2000 and 2012.
It will be their first competition for nearly 21 years without goalkeeper Gianluigi Buffon. Punters should keep an eye out for Nicolo Zaniolo, who could be one of the stars of the Euros.
🇹🇷 Turkey: Euro 2021 Group A
Turkey enjoyed an excellent qualifying campaign, and they are rightly being spoken about as a potential Group A Euro 2021 winner. Their best appearance at the European Championships was back in 2008 when they reached the semi-finals.
Their main strength is in their defence as they only conceded three goals in their qualification campaign. When it comes to attacking, their hopes will be resting on the shoulders of 22-year-old Enes Unal.
🇨🇭 Switzerland: Euro 2021 Group A
The Swiss could be a dark horse in the competition, despite the fact they have consistently faltered on the main stage. This is something punters should keep in mind when thinking about betting on Euro 2021 Group Their best performance at the competition came in the previous edition where they reached the quarterfinals.
It is hard to see the Swiss finishing in the top two because they are too inconsistent, and their star player will not be fully fit. Xherdan Shaqiri is the star for the Swiss, but he has been on and off Liverpool's bench this season, which means he may suffer to keep up with the pace at the Euro.
🏴󠁧󠁢󠁷󠁬󠁳󠁿 Wales: Euro 2021 Group A
Wales will be hoping that they can match their performance at the previous Euro championship as they reached the semi-finals in 2016. However, the arrival of Ryan Giggs has meant a shift in direction, with more emphasis being put on their youth players.
This may be a good competition to boost their experience, with much of the pressure to score falling on Gareth Bale and Aaron Ramsey. However, they will be the outsiders for those betting on Euro 2021 Group A.