Commercial content | New Customers Only | Wagering and Terms and conditions apply | 18+
The Euro 2020 dates and teams have now been confirmed, with the championship taking place from 11th June to 11th July in 11 host cities across Europe.
Euro 2020 Match Schedule
Matchday Betting Odds for Euro 2020
Make sure you check back every day for up to date betting tips as we'll be posting our tips for every Euro 2020 matchday.
21/06/2021 Group C: Ukraine v Austria
Read More
Odds are subject to change. Last updated June 21st, 2021.
Learn more about our ratings at the bottom of the page*
21/06/2021 Group C: North Macedonia v Netherlands
Read More
.
Odds are subject to change. Last updated June 21st, 2021
21/06/2021 Group B: Finland v Belgium
9/2
Correct Score - Belgium 2-0
Read More.
Odds are subject to change. Last updated June 21st, 2021.
21/06/2021 Group B: Russia v Denmark
.
Read More.
Odds are subject to change. Last updated June 21st, 2021.
The draw
Group A (Rome/Baku): Turkey, Italy (hosts), Wales, Switzerland
Group B (Copenhagen/St Petersburg): Denmark (hosts), Finland, Belgium, Russia (hosts)
Group C (Amsterdam/Bucharest): Netherlands (hosts), Ukraine, Austria, North Macedonia
Group D (London/Glasgow): England (hosts), Croatia, Scotland (hosts), Czech Republic
Group E (Seville/St Petersburg): Spain (hosts), Sweden, Poland, Slovakia
Group F (Munich/Budapest): Hungary (hosts), Portugal (holders), France, Germany (hosts)
EURO 2020 Fixtures
Overall: 11th June – 11th July 2021
Matches (chronological order):
Group stage – Matchday 1
Group stage: Matchday 2
Group stage: Matchday 3
*Rest days on 24 and 25 June
Knockout Phase
Round of 16
*Rest days on 30 June and 1 July
Quarter-Finals
*Rest days on 4 and 5 July
Semi-finals
*Rest days on 8, 9, 10 July
Final
Key Points
The number of teams that participated in the Euro 2020 fixtures was 55. They were divided into 10 groups: 5 of 5 ( A-E ) and 5 groups of 6 ( F-J ). The Euro 2020 qualifying fixtures were played from March to November 2019.
With the end of the Nations League, the 6 seeding pots were announced. The number of teams which will participate in the finals next year is 24.
How were the teams chosen? Simple. It was pre-determined that the two top-ranking teams from each group will take part in the finals. The four remaining places were then filled out by winners from playoffs in October and November 2020.
How were the groups formed?
The decision regarding which teams were involved in the draw was based on the Nations League Rankings. Those 55 teams were then divided into 7 pots. Of 7 pots, the first one was made up of Nations League finalists. The rest of the pots were filled out according to the teams' overall ranking.
The first positions in groups A through D were reserved for the four Nations League finalists. After that, the first positions in groups E-J were assigned to those teams who made it into the Pot 1. Then came Pot 2, whose members were drawn in the second places of the ten groups. The rest went on normally: Pot 3 members into third positions, Pot 4 into fourth, and Pot 5 into fifth. Finally, the draw saw Pot 6 teams, 5 of them, drawn into final (sixth) positions in groups F-J.
Euro 2020 schedule: dates & calendar
This paragraph will focus on the Euro 2020 calendar. We'll mention when the matches are being played. As stated in the Euro 2020 schedule, there were 10 matchdays which were held from the 21st of March to the 19th of November 2019 to decide the majority of the groups.
In the list below you can see the rest of the Euro 2020 fixtures timeline:
Play-off draw: 22 November 2019
Final tournament draw: 1 December 2019
Play-off semi-finals: 8 October 2020
Play-off finals: 12 November 2020
Final tournament: 11 June–11 July 2021.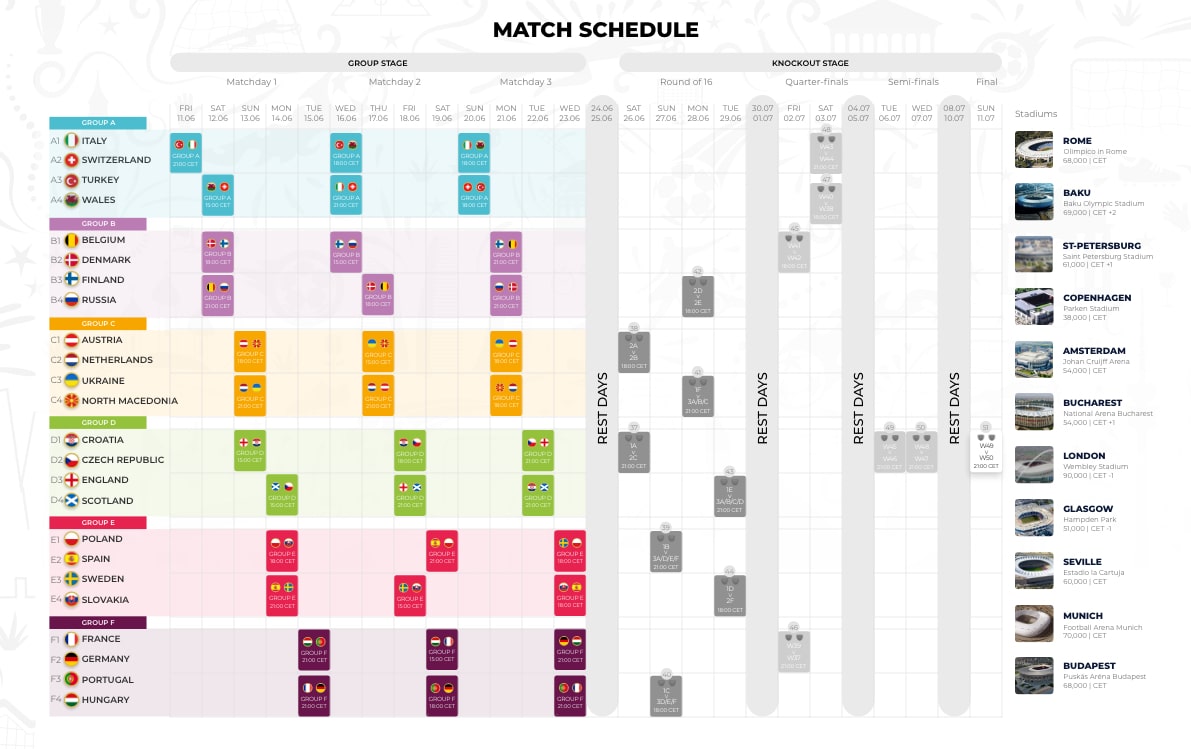 European Cup 2020: Play-off Draw
According to the Euro 2020 calendar, the play-off draw took place on 22 November 2019 once the qualifiers were finished. The playoff draw consisted of single-leg semi-finals which were held in October and November 2020.
The Euro 2020 fixtures show that the playoff finals featured Georgia vs North Macedonia, Serbia vs Scotland, North Ireland vs Slovakia, and Hungary vs Iceland. The results saw North Macedonia, Scotland, Slovakia and Hungary make it through to the group stage.
Euro 2020 Final Tournament Draw
The 24 teams that qualified for the Finals have been divided into six groups of four. Their European Qualifiers ranking determined the teams' seedings. There are 11 host nations that have been pre-elected and paired in the same groups.
When creating the seedings, numerous criteria were taken into account (points, number of scored goals, number of wins, final position in the group, etc). In line with the Euro 2020 schedule, the Euro 2020 Final Tournament will begin on 11 June and end on 11 July 2021 at Wembley Stadium, in London.
Euro 2020 Host Nations: Cities and Stadium
Unlike the previous Euro 2016, the Euro 2020 fixtures are being played in 11 different countries. Below, you can see the list of the countries, cities and stadiums where the matches will take place.
London (Wembley, 90,000).
Munich (Football Arena Munich, 70,000).
Baku (Olympic Stadium, 69,000).
Rome (Stadio Olimpico, 68,000).
Budapest (Puskas Arena, 68,000).
St Petersburg (Krestovsky Stadium, 61,000).
Seville ( Estadio La Cartuja de Sevilla, 60.000)
Bucharest (Arena Nationala, 54,000).
Amsterdam (Johan Cruyff Arena, 54,000).
Glasgow (Hampden Park, capacity 51,000).
Copenhagen (Parken Stadium, 38,000).
Euro 2020 Fixtures FAQ
How many Euro 2021 groups are there?
The Euro 2020 group stage is made up of five groups, going from A to F, with four teams in each group. In each group, three teams qualified during the main qualifiers, while the last team qualified from the play-offs. Group F has been nicknamed the "Group of Death" due to the high calibre of its teams.