In this article courtesy of New African Football magazine, Phil Vasili (author of Colouring Over the White Line: The History of Black Footballers in Britain and The First Black Footballer), shows us that the movement of footballers from Africa to Europe is far from a new phenomenon.
The history of Black African footballers is long and honourable. They have made a contribution to the professional game in Britain since the very beginnings of the Football League in 1888. The fact of their historical existence, until recently, had been hidden from view and largely unrecognized. This is the result of the general misconception that British football has had a monochrome past.
In 1886, aged twenty, Arthur Wharton became Amateur Athletic Association 100 yards champion – the first to run in ten seconds – and signed for Preston North End as a goalkeeper for their F.A.Cup games only. His other team at the time was Darlington Cricket and Football Club. At the end of his first season Preston reached the F.A. Cup semi-final. The club were to become the Victorian equivalent of A.C. Milan, remaining unbeaten in the first season of the new Football League, winning both league and cup. Wharton officially turned professional in 1889 with Rotherham Town.
An all-round professional sportsman, he ran professionally, cycled, played rugby and cricket. He became one of the most remarkable athletes of his generation. A crowd pulling extrovert, at one match he was reported to have swung from the crossbar and caught the ball between his legs, causing three onrushing forwards to charge into the net. At an athletics meeting he overheard a competitor complaining about having to run against a Nigger. Wharton offered to box him if he preferred, his antagonist embarrassingly and swiftly declining.
It's known that he played for a number of clubs including Darlington, Newcastle East End (now Newcastle United), Rotherham Town, Sheffield United, Doncaster Rovers and Stockport County, his last known professional club, for whom he played in the 1900-01 season.
While there were a number of British and Asian born Black professionals in the League before the First World War, the next African born player to join a professional club was Egyptian Hassan Hegazi, who turned out once for Fulham in 1911. He'd made a name for himself with top amateur club, Dulwich Hamlet. In 1914 he won a Cambridge Blue (played for the University).

Blazing a Trail
A fellow countryman who did make an impact at the highest level was Tewfik Abdallah. He played competitive football against British Army teams during the 1st First World War, making an impression with Derby County professional Tommy Barbour. Abdallah travelled to the home of Rolls Royce in 1920, telling County his first concern was to acquire an engineering trade. It's not known if he managed that but a local football reporter described him a skilful player ' a genius in embryo'. An interview in the Derbyshire Football Express, 1920, describes a man who'd played for the National Sporting Club of Cairo and an Egyptian representative team that played a British Army side and beat them 2-1. However, Derby were a struggling first division team at this time and Abdallah stayed just 2 seasons. He also played for Cowdenbeath in Scotland and Hartlepool United before coaching in the U.S.A.
A third Egyptian, Mohamad Latif, signed for Glasgow Rangers in 1934 while studying physical education in the city. He played mostly for the reserves as a winger. His greatest hour came in the 1936 Berlin Olympics as part of the Egyptian team.
Apart from these individual African players, there were a number of tours to Britain by representative teams, the first in 1899, from Basutoland, South Africa. Between 1949-59, there were 3 visits to Britain by Black African sides. All of them were officially sanctioned and partly funded by the colonial regimes, their Football Associations and the British political and football establishment. These tours, from Nigeria in 1949, the Gold Coast (Ghana) in 1951 and Uganda 1956, opened the eyes of British clubs to the wealth of talent that was available in Africa. The Nigerians were particularly successful, beating Amateur Cup holders, Bromley 3-1; the Ugandans also scored a notable victory, beating the British Olympic XI – soon to compete in Melbourne, Australia – 2-1.
Tesilimi 'Thunder' Balogun, a Nigerian Tourist, returned to the UK six years later, signing for Peterborough in August, 1955. He said he'd stay if the club found him an apprenticeship in the printing trade. Initially it looked as if Peterborough would lose their favourite African, the drama making headline news on the local sports pages. Immediately job offers came flooding in: 'Thunder' would stay! But not for long. In 1956 he signed for Q.P.R. (Another Nigerian Tourist, Henshaw, signed for amateur Cardiff Corinthians for the 1949-50 season; Ghanaian E.B. Wallace Johnson signed for Hendon after the '51 Tour).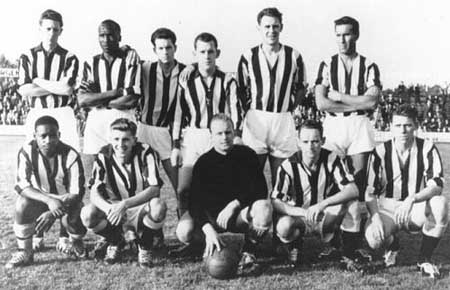 In the wake of 'Thunder', between 1955-65, came Steve Mokone (pictured above, Coventry City), Gerry Francis and Albert Johanneson (Leeds United), all Black South Africans; Nigerian 'Super Eagles' Francis Feyami (Cambridge City) and Elkanah Onyeali (Tranmere Rovers); and Black Star John Mensah from Ghana (also at Cambridge City).
The achievement of these pioneering African footballers in making a living at football in the UK was remarkable when we consider the lack of facilities and resources that were available to them, especially in apartheid S. Africa. What is obvious is that African players have had a long and successful presence that has enriched and added to the game in Britain.
Articles from New African Football magazine will be appearing on Pitch Invasion periodically. Take advantage of their current special offer and subscribe now.
---
You can easily check out our best quality 156-215.71 which prepare you well for the real 640-461 exam.You can also get success in real 646-671 exam with the quality 646-578 and 117-101.