In 1966, following England's victory in the World Cup, a hasty commemorative stamp was issued by the Royal Mail: simply the original 1966 tournament stamp with "England winners" stamped (hah!) at the top.
For 1970, not fearing a jinx and hoping to have something more creative ready for release should England repeat their triumph (not a far-fetched proposition), famous designer David Gentleman was commissioned to produce something by the Royal Mail. And he did produce something stylish, though his design long sat neglected, before being recently dug up by the British Postal Museum & Archive (who have cleverly just released the image in time for maximum pre-World Cup publicity).
The 1966 stamps: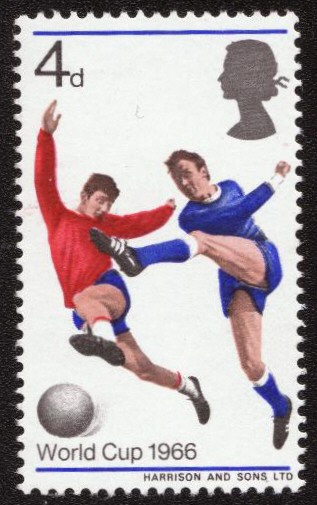 There were 146,162,040 stamps sold with the above design. The modified version that followed England's victory was released on 18 August 1966 in a more limited run, 12,452,640 sold, most of them snapped up by collectors and dealers.
And, of course, there were exactly zero stamps made to commemorate the 1970 World Cup in England.
Hat-tip: Creative Review.