Commercial content | New Customers Only | 18+
The logo of Detroit City FC does not feature a cartoon soccer ball. In fact, it doesn't say or show soccer anywhere on it: instead, in grand but subdued tones of burgundy and gold, the badge is dominated by a classy representation of the statue below, the Spirit of Detroit in the city's downtown: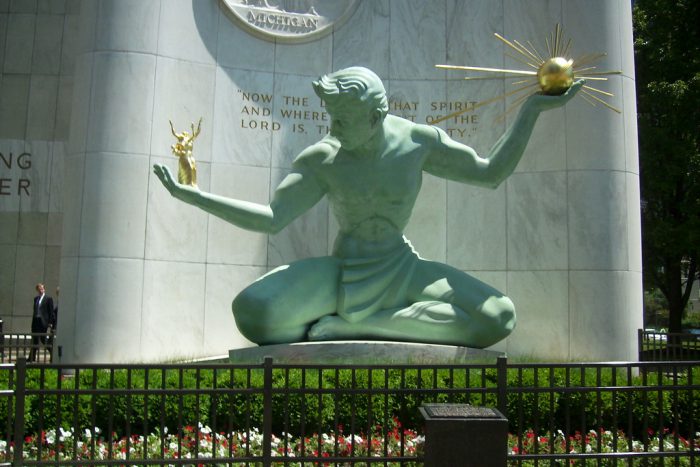 This is the identity that Detroit City FC have pinned themselves to. An instantly recognizable civic symbol of Detroit, and one that suggests sophisticated urbanism rather than suburban soccer.
One of the leading figures behind Detroit City FC, Sean Mann, spoke to Pitch Invasion this week about the new club, who will begin play at the fourth tier of American soccer in the NPSL this May.
You can listen to the full interview with Sean below, or over on iTunes.
[buzzsprout episode='39872′ player='true']
Sean explains how Detroit City FC sprouted from an urban soccer league (Detroit City Futbol League) he began a couple of years ago: "When people think of Detroit, they think of a big blob of decay," Sean said. "But in reality it's a city with a whole slew of neighborhoods that often get overlooked. So my idea was let's get people together, let's build up neighborhood pride and neighborhood recognition. For me, the perfect vehicle for that was soccer."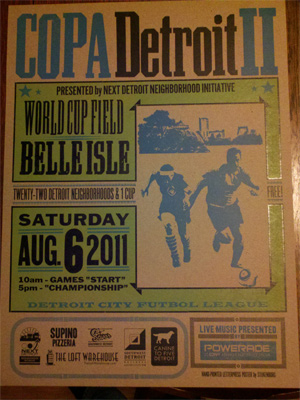 That vehicle, according to this piece at model D, quickly proved to be a great success:
Here is a puzzle. Create a program that can achieve the following results:

1) Rally hundreds of motivated, young Detroit residents around a single cause. 2) Highlight 22 different historic neighborhoods throughout the city, and create unique branding for each. 3) Get the crowd out to a different bar, in a different neighborhood, each week. 4) Double the number of participants by the second year. 5) Get 10 people to pack up and move to Detroit.

This sounds like a job that will need a lot of financing, committees and sub-committees, and months planning with a large team in place to implement, right? Wrong. This is what happens when you start up a soccer league in Detroit.

League Commissioner Sean Mann started the Detroit City Futbol League last year as a way to bring city residents together, to celebrate the rich fabric of neighborhoods that make up the city, and to bring the 18-and-over crowd together over something other than frustrating politics.
Detroit City FC aim, at the grassroots level of the NPSL's essentially semi-pro fourth tier of American soccer, to tap into that urban crowd, and bring them together in the city to support a team consciously striving to appeal to adult supporters and participants already in love with the sport.
"Our core focus is on using this team to build the supporters culture, to boost the supporters culture that's already here in Detroit and give them a bigger platform," Sean explained.
Sean tells Pitch Invasion how Detroit City FC's identity came about, who's behind it and their hopes for the future. Give the interview a listen to learn about an unusual approach to building a soccer club in North America, and special thanks to Sean for joining us in a special extra episode of the Pitch Invasion podcast.
[buzzsprout episode='39872′ player='true']
One correction: we mistakenly identify the Michigan Bucks as playing in USL Pro rather than USL PDL.
---
Read next: Betfred promo code 2016