Bet365 - T&Cs apply : Sports betting | Casino | Poker | New Customers Only | Commercial content | 18+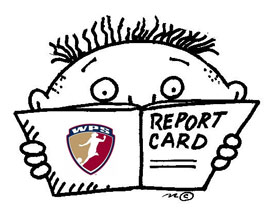 Editor's Note: Chicago Red Stars President and CEO Peter Wilt returns for his third weekly column on Pitch Invasion, pulling no punches as he grades the first season of the league his own team plays in.
Sunday's Women's Professional Soccer All-Star victory over Swedish powerhouse Umea ended WPS' first season and that makes this a good time to reflect on the inaugural year and analyze WPS' progress.  I decided to grade the league in six categories of on and off field performance (mostly off) and give you my thoughts on the League's inaugural season, particularly with my own experiences with the Chicago Red Stars in mind.
Following are my grades for WPS' 2009 report card:
ATTENDANCE/RELEVANCE:  C
Probably the most disappointing grade for me personally.  WPS' average attendance of 4,684 fell within the range of 4,000 to 6,000 mentioned widely as a goal by the League prior to launch for its first season.  It was on the low end of the scale, however, and included novelty bumps from each team's inaugural game — such as14,832 at the league's inaugural match at the Home Depot Center.
Viewing attendance figures through the prism of the bad economy makes this grade seem a bit harsh as the economy certainly contributed to lower than desirable attendance figures.  All sports, even including the NFL, have suffered at the gate in the past year, but surveys showed that fans think WPS ticket pricing is reasonable, so I'm not certain how much we were affected.
While the attendance numbers are critical, the more important issue with any team or league is its relevance in local markets and nationally as that will ultimately determine future support and success — more so than past attendance.  WPS and individual teams certainly put a stake in the ground and built their relevance nationally and in the League's seven markets in 2009, but it does not appear that either the number of emotionally connected fans or the depth of that connection is large enough yet to be deemed a success.  Boston, Washington and Bay Area were able to carry on connections from WUSA, while Saint Louis, Los Angeles, Chicago and Sky Blue (the NY Power's home base of Long Island is a different market IMHO) started from scratch.  Based on social media attention and observation at games and team events, it appears that a solid number of fans in each market have become passionately connected to the teams and players through WPS.  There are also a decent number of people in each team market who have become connected casually to their local teams.
The depth of support and passion among those that are attending the games is impressive, but the breadth of that support needs to grow.  Anecdotally in Chicago (and I believe this is true throughout WPS), it does not appear that the Red Stars have become an ingrained part of the Chicago soccer culture despite a strong mixture of traditional and new media and grass roots marketing.  That growth will likely occur over time if WPS and teams maintain their focus and continue to provide quality entertainment and strong marketing efforts.  League-wide attendance did trend upward from week 17 through the playoffs in week over week averages.  In Chicago, each of the final five home games had higher attendance than the previous game, culminating with 7,959 vs. Los Angeles in our season finale.  The late season growth is likely due to several factors including more lead time for groups and promotions, better weather, more word of mouth promotion and an improvement in the economy.  It is also worth noting that the League believes it has learned some lessons on scheduling that will be implemented next season in order to make attending games more convenient for fans.
NON-TICKET REVENUE: C-
Starting a professional sports league in the worst economy of our lifetime — tough.   Starting a professional SOCCER league in the worst economy of our lifetime — really tough.   Starting a professional WOMEN'S SOCCER league in the worst economy of our lifetime — are you kidding me?!?  Well that was the reaction I got from a lot of people.  The bad economy certainly impacted ticket sales a bit, but I think the impact on sponsorship and ancillary stadium revenue was much stronger.  Corporations were all in cutback mode for sponsorship, not frozen or even expansion…and the new kids on the block were often left holding an empty bag.

It hit the League and the teams (on which to bet with bet365 bonus code).  WPS, working with Soccer United Marketing, earned some great partnerships with Puma, EuroSport and Fox Soccer Channel early on and later with MedImmune, the US Coast Guard and several others to create a solid foundation for future years.  Similarly, teams all fell short of initial projections, but made up ground as the year went along.
The poor economy hurt merchandise, concessions, parking and camp revenue also.  The bright side for WPS is that as the economy improves, these are all categories that will likely grow.  Camp revenue was down nationally due to the economy, but several teams including Sky Blue FC and the Red Stars did well with their camps.  In Chicago, nearly 500 girls went through the Red Stars camp program in its inaugural summer.  The good word of mouth we're getting on the camps means we'll likely double and even triple this important revenue and marketing area in the next couple years.
FAN EXPERIENCE: A-
While I personally thought we would have higher attendance, the people that did attend really enjoyed their experience and felt they received value for both the cost of their ticket and their time.  The fans were more engaged in the action on the field than I anticipated and the teams all did a very good job managing the balance of sport and entertainment. WPS restricted the amount and types of promos during game action and teams created activities and attractions for fans of all ages.
Access to players, coaches and staff was as good as any League I've ever been associated with, the stadia all provided intimate settings with great sightlines and attention to customer needs was a priority throughout WPS.  Most teams have the beginnings of passionate supporters groups, including Local 134 in Chicago, Marta's Maniacs in Los Angeles and Laclede's Army in St. Louis.  Jock rock was avoided in most venues as the crowds provided the sound track with loud cheering for individual plays if not the organized cheering of large supporters sections.  Efforts were also made with varying degrees of success to diversify the audience by marketing to young urban men and gay and lesbian and ethnic communities.
Crowds that are small relative to MLS and other sports made getting in, out and around WPS games convenient for fans.  High and low end hospitality areas, tailgating and fan fest areas at many venues provided plenty of reasons to arrive early and stay late as well. Minor league baseball impressario Mike Veeck visited a Red Stars game at the end of the season and came away impressed with the overall fan experience.  This is high praise from someone who understands fan experience as well as anyone in sports.  WPS teams need to improve getting the message out regarding the overall fan experience in order to get more people to arrive early, stay late and enjoy the full WPS experience around the game itself.
QUALITY OF PLAY:  A-
WPS rosters were filled with virtually the entire 2008 Olympic gold medal winning U.S. Women's National Team, the three 2008 FIFA Female World Player of the Year finalists and the best players from Brazil, England, France, Australia, Japan, China and several other nations.  While Leagues in Sweden, Germany, France and England could claim one to three good teams, WPS was unique in having seven teams filled with national team players.  The Red Stars, as an example, could field 13 players with full national team experience representing seven different countries…and that's the team that finished in 6th place.  WPS certainly achieved its goal of parity as any team could defeat any other on a given day.
While some teams took a little time to mesh and some games saw more fouls than scoring opportunities, the typical WPS game was free flowing with end to end action, gorgeous goals and often featured segments with ten or more passes being strung together.   Europe's Kelly Smith, Sonia Bompastor and Carre Jonsson all brought class, Brazilians Marta, Cristiane and Daniela provided flair and young Americans Tasha Kai, Lori Chalupny and Megan Rapinoe added personality and skill.  The high level of play kept fans attention riveted to the field.
WHAT DID WE LEARN FROM WUSA?  A-
When I was in grammar school, I never liked to go first.  Whether it was demonstrating something in gym or answering a teacher's question in class.  Giving it a shot after someone else failed always gave me the benefit of learning from the first person.  The same can be said of all of my pro soccer experiences.  My predecessors with the Milwaukee Wave and Chicago Power were rather underwhelming, the Chicago Fire had the benefit of studying the lessons of MLS' first two seasons and WPS was able to go to school on three years of WUSA shortcomings.
WUSA spent too much money on traditional advertising, stadia, staff and players and avoided working with MLS and other established soccer organizations.  Many of their owners were disengaged from their teams, many of their team CEOs had little pro soccer business experience and much of their promotional efforts were misguided.  WPS' business model was based on not repeating these errors. In general, I'd say WPS succeeded in keeping true to the new curriculum.  Engaged owners?  Check.  Reduced and more efficient spending?  Double check.  Work with MLS, USYSA, AYSO, WPSL, W-League and any other soccer related acronym?  Check.  Hire more experienced soccer execs?  Check again.   We weren't perfect in this area though:  Rules of engagement on the player side changed regularly in WUSA and despite warnings from those who went through it the first time, WPS was unable to totally avoid this trap.
OFF FIELD ENDEAVORS:  B+
This category is a compilation of several including ownership, marketing, communications and operations.  Ownership in WPS is very different from WUSA.  In addition to being a traditional franchise model as opposed to WUSA's single entity, the team ownerships are mainly individual or groups of successful businessmen who have personal connections to soccer.  WPS owners as a group do not have the net worth of the corporate cable giants that owned WUSA, but they do have the interest, knowledge and passion for the sport that was missing in WUSA with the major exception of the Washington Freedom's John and Maureen Hendricks who are the sole WUSA owners to invest in WPS and represent the best of both types of owners.  WPS' See Extraordinary marketing campaign was on message, professional and distributed well economically to its target audience both online and through Fox Soccer Channel.
The League's commitment to online marketing paid dividends as it mastered Twitter earlier than other pro sports leagues.  WPS also effectively used Facebook, its own team and League websites and its own social media web site to get the word out in an interactive and viral way.   Commissioner Antonucci, a former Yahoo! executive  made online marketing a focal point of the League and her lieutenants Rachel Epstein, Karyn Lush, Rob Penner, Amanda Vandervort and Jill Coy effectively designed and rolled out the League's online marketing and communications strategy.  Weekly insider emails which have become a staple of team to fan communication provided informative content unavailable from traditional media and the standard Sunday Fox Soccer Channel time slot provided destination viewing to the nation's soccer base.  The League's partnership with EuroSport gave fans of WPS teams an easy way to buy merchandise online and via catalog.  Efforts are near completion on a national retail partner that will provide in store access to WPS merchandise as well.
Reducing budgets from the WUSA days risks a negative impact on brand image.  For the most part, I believe WPS maintained a professional image at both the League and team level via its online branding, by hiring young talented staff and making the game day experience pleasant without being ostentatious. Except for promising the best women's soccer league in the world, which it delivered, I believe WPS promoted modest expectations and in most cases over delivered.  Community interaction of players and staff with the public was kept on message and generally impressed stake holders.  Staff and players are communicating effectively with the public.  The main challenge is to increase the opportunities for that interaction.  That can be done with even more appearances (teams were very good with this) and larger and more experienced sales staffs.
SOCIAL IMPACT:  N/A
Please don't confuse the term "Not Applicable" with "Did not happen" or "Failure" or "Success".  There is no doubt that WPS players are de facto role models, give young girls aspirational heroes and advance the cause of equal opportunity for women in sports and sports business.  My point in calling this category out as a non-gradeable category is that I believe WPS needs to succeed as a business based on its entertainment value, marketing  and on field performance not as a social cause.
This doesn't mean that there isn't real value or benefit to providing opportunities for women and goals for young girls to admire and aspire to emulate.  It just means that as a business, WPS needs to stand on its own legs and not be considered a charity that is supported BECAUSE it provides the added social benefits.  It should be mentioned that WPS teams and players were active in many charitable and social endeavours including Greenlaces, the environmental awareness non-profit founded by Chicago Red Stars defender Natalie Spilger.
OVERALL, AKA SUSTAINABILITY:  B
WPS laid a tremendous foundation for a sport that has proven to be difficult to sell during the best of times muchless the worst economic time of our lives.  As heavy as the lifting was for the first season — and at times it felt like we needed Vasiliy Alekseyev — year two will be a greater challenge in many ways.  The novelty bump will be gone (though I suspect it wasn't as great a bump as MLS or other leagues experienced) and the League will need to innovate and keep up an aggressive and energetic start up approach through an improved 2010 economy.  If not, the energy from a new endeavour will be limited to the expansion franchises in Philadelphia and Atlanta.
WPS will not "make it" in 2009, 2010 or 2011.  "Making it" in this case is about sustainability and that merely requires keeping enough teams in existence for the League to be around for future generations.  The League has not yet proven its business model operationally, but it has set a base line that allows adjustments to be made in order to work toward profitability much like MLS did in its early years.  If you've followed WPS this year, please feel free to provide your grades and feed back in the comment section.
Last week's column on customer service received some great comments and helped unearth a terrific blog post from my friend Magda Walczak on the effectiveness of customer service at shoe company Zappos.  Next week's column will be a Q&A with  Portland Timbers Director of Soccer Development and Assistant Coach Amos Magee.  Amos' experiences give him a unique perspective on all levels of soccer in the United States.  I think you'll enjoy reading his comments.  Finally, if you'd like to follow my Tweets, my Twitter name is @RedStarsCEO.