Bet365 - Terms and conditions apply : Sports betting | Casino | Poker | Terms and conditions apply : William Hill - Sports | Casino | Poker | Vegas | Live Casino | T&Cs apply | Wagering and T&Cs apply | Commercial content | New Customers Only | 18+
The Polish national team has failed to qualify for the European Championship many times. Indeed, it was not until 2008 that Poland participated for the first time, under Leo Beenhakker's coaching. Since then, the White and Reds have been a consistent performer and even reached the quarter-finals of the competition in 2016 – a milestone they will be aiming to surpass at Euro 2020-2021.
🔎 Euro 2020: Poland in a nutshell
Despite having finished third in the World Cup twice (in 1974 and 1982), Poland has since struggled to perform well in international competitions.
In the Euro qualifiers, however, they finished top of their group, with only one defeat in 10 games. In particular, they outperformed opponents such as Austria and Slovenia, two nations of more or less the same level. Poland has also been solid, conceding only 5 goals.
They now have one of the best squads in Europe and will have to show this at the Euro this summer.
👥 Poland's Euro 2020-2021 Lineup
At the Euro, Poland will inevitably rely on its many experienced players. However, we know that they will need more than this to achieve great things in this tournament. Especially as these players were present during the 2018 World Cup and this was not enough to prevent the "Red and White" from being eliminated in the group phase.
Moreover, this tournament will certainly be the last one for some players and therefore automatically the only opportunity for them to win a major title with their national team.
Poland's 23-man squad
Like all national teams, the final list of players for Euro 2020 will only be known in May. However, with the World Cup qualifiers currently taking place, the men selected for those matches gives us a clue as to who will be called up this summer.
Paulo Sousa, the former Bordeaux coach who took the reins of the Polish national team, has called up a group of 27 players to face Hungary, Andorra and England.
Goalkeepers: Fabiański, Szczęsny, Skorupski
Defenders: Bednarek, Helik, Bereszyński, Piatkowski, Dawidowicz, Reca, Glik, Rybus
Midfielders: Augustyniak, Krychowiak, Grosicki, Moder, Józwiak, Placheta, Klich, Slisz, Kowalczyk, Szymanski, Kozlowski, Zielinski
Forwards: Lewandowski, Piatek, Milik, Swiderski
#konferencjaLIVE
🔴 Oto powołani zawodnicy na marcowe zgrupowanie reprezentacji Polski! pic.twitter.com/6s2t3hZaoj

— Łączy nas piłka (@LaczyNasPilka) March 15, 2021
Paulo Sousa, a hybrid manager
In France, he is best known for his time at Bordeaux. When he was in charge of the Girondins, the Portuguese manager had implemented innovative formation ideas. Indeed, he wanted a system with three defenders in the offensive phases which could be transformed into a 4-4-2 when his team did not have the ball.
In addition, his style of play was based on the importance of his pivots. He also insisted on two very important points: concentration and application. To do this, he did not hesitate to leave the players unconcerned on the sidelines. He thus won over both the spectators and the Girondins' supporters.
He also wanted to be close to his group, so he set up workshops such as cooking to strengthen the cohesion of his team. Having succeeded in stabilising his team, he nevertheless had difficulty finding his feet with the Bordeaux management and packed his bags before heading off to the Polish national team.
👕 Poland's Kits
The two shirts that Poland will use at this Euro are in the colours of the national flag. They also feature the country's emblem: the eagle.
🗓️ Poland's Match Schedule (Group E)
Poland is in Group E at Euro 2020. They will face Spain, Slovakia and Sweden.
They will be expected to play against Spain and, even though first place is promised to Spain, they will try to make themselves a real competitor for La Roja.
Poland vs Slovakia odds
Odds are subject to change. Last updated
May 12, 2021 2:04 pm
.
📊 How far will Poland go at the Euro?
🏃 Poland's Euro Preparation
The Polish national team finished in first place in their Euro 2020 qualifying group. They were defeated only once and also drew a game.
Euro 2020 Qualification Results
However, the group stage of the Nations League was more difficult. In a tough group with the Netherlands, Italy and Bosnia-Herzegovina, Poland only finished third in Group 1 of League A.
Nations League Results
04.09.20 – Netherlands

1 – 0

Poland
07.09.20 – Bosnia-Herzegovina

1 – 2

Poland
11.10.20 – Poland

0 – 0

Italy
14.10.20 – Poland

3 – 0

Bosnia-Herzegovina
15.11.20 – Italy

2 – 0

Poland
18.11.20 – Poland

1 – 2

Netherlands
Four Matches to Prepare for the Euro
In addition to the three matches in the qualification phase of the 2022 World Cup in Qatar, Poland has already organised a friendly match against Iceland in the margin of the Euro. Paulo Sousa still has some time to prepare his ambitious team.
25.03.21 – Hungary

3 – 3

Poland
28.03.21 – Poland

3 – 0

Andorra
31.03.21 – England

2 – 1

Poland
08.06.21 – Poland – Iceland
⭐ Star Player at Euro 2020: Robert Lewandowski
How can we talk about Poland without talking about their star striker? Indeed, Robert Lewandowski is certainly the best No.9 in the world at the moment. Last season he won 6 titles with his club Bayern Munich, a feat previously only achieved by Barcelona. He scored 55 goals and provided 10 assists in 47 games, a monumental performance.
On a negative note, he was injured during his match against Andorra and will miss the Champions League quarter-finals against PSG.
He can also claim to equal Gerd Muller's record of 40 Bundesliga goals in the 1971/72 season.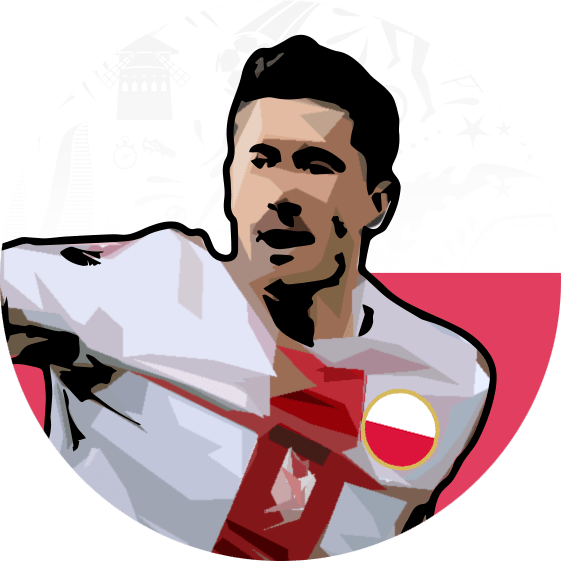 👟 Player to Watch at Euro 2020: Arkadiusz Milik
The 27-year-old Olympique de Marseille striker is keen to get back on track. Indeed, after a difficult period with Napoli, Arkadiusz Milik has found a new home in Marseille. Although his arrival was in a very complicated context (change of management, tension with the fans), the striker made the most of any opportunities to shine that came his way. Despite getting injured not long after he joined the club, he scored three times in seven games.
He was seen as the great striker that Marseille needed, his performances in the game were quickly noticed and it will seem difficult for the Olympians to keep hold of him this summer. If he has a good Euro, the possibility of seeing him in the white and blue colours next season will be even less likely.
With his fellow star-striker on the national team, the duo appears to be one of the most dangerous in Europe and will certainly make opponents' nets tremble.
Goal, bon match d'équipe, gagner … quoi d'autre? Le Samedi soir parfait. Allez OM 🔵⚪️

Goal, good team match, win…what else? The perfect Saturday night. Allez OM 🔵⚪️

Bramka, dobry mecz całej drużyny, zwycięstwo… Czego chcieć więcej? Idealny sobotni wieczór. Allez OM pic.twitter.com/ymnXOr2ZBk

— Arkadiusz Milik (@arekmilik9) March 13, 2021
📚 Stats and History: Poland at the Euro
As mentioned above, Poland will participate in their fourth Euro group stage. They may not have a record in the tournament, but let's take a look at some of the Polish national team's figures.
Poland's Euro Statistics
1: Poland scored just one goal at Euro 2008
13: The total number of games Poland played at Euro 2008
16: The number of goals conceded in those 13 games, more than one goal per game
Polish Players' Individual Statistics at the Euro
8: Jakub Błaszczykowski, Robert Lewandowski, Łukasz Piszczek are the players who have played the most Euro games
3: Błaszczykowski is the top Polish scorer at the Euro with 3 goals
19 years and 172 days: This is the age of the youngest Polish player to have played a Euro match. It was Bartosz Kapustka at Euro 2016
🥊 Poland's Main Opponents at Euro 2020
Poland will be in Group E of the Euro alongside Spain, Sweden and Slovakia. A tough group in which the Poles will try to do well.
Spain
The favourite of the group, Spain's performance will be highly anticipated after their failures in 2016 and 2018.
➡ All about Spain 🇪🇸 at Euro 2020-2021
Sweden
After a good 2018 World Cup, the Scandinavians will be able to count on the return of Zlatan Ibrahimovic, in particular, to try to carry them as far as possible.
➡ All about Sweden 🇸🇪 at Euro 2020-2021
Slovakia
The least known nation in the group but rather talented nonetheless. Qualified after the playoffs, the Slovakian team is the runt of the litter in this group.