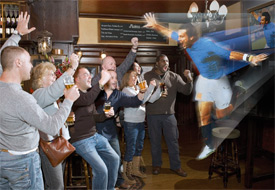 According to well-known futurist Ray Kurzweil, machines will be smarter than humans by 2029. Maybe that's not even the right way of putting it — he actually thinks humans and machines will merge. "We'll have intelligent nanobots go into our brains through the capillaries and interact directly with our biological neurons," he told BBC News.
I don't know what a nanobot is, but it's a frightening and fantastic prospect. Another bizarre piece of futurology this week also focused on how technology and human culture will fuse in the coming years: the Orange Future of Football report for 2008 was released. We wondered last week if the Premier League will be playing games in space sometime soon, so it seems we can't even speculate wildly enough to keep up with the changes to the global game.
Therefore, we should pay attention to what we can look forward to as football fans, according to Orange:
Holographic Viewing
Traditionalists will not like this suggestion. "'We could have scenarios in the future where no one goes to watch sport live, preferring instead to watch it on television,' Roy Jones, professor of sports technology at Loughborough University, told the report. They think that "We will watch TV in 3D in pubs, giant screens outside stadiums and eventually in the home, all without the need for funny coloured glasses", and empty seats in stadia will be filled by "computer-generated characters…to create the impression of full stadiums."
Stadium living
Yet the report then says stadiums won't be empty at all; in fact, they'll be closer to the people than ever. Think that clubs moving out of their traditional homes in city centres into barren suburbs is bad for the game's connection to the community? Think again, says Orange's report.
Fans will be able to live in and around football grounds as the ultimate display of loyalty, an honour previously reserved for groundsmen. As clubs move to the suburbs to find the space for bigger grounds, they will look to rejuvenate areas by creating villages complete with retail and residential areas. Residents would never have to leave these mini-communities and would be totally immersed in the club.
A suburban reconstruction of the football club as hub of community-life. Sponsored by Starbucks, presumably.
The interactive stadium
And the stadiums themselves will be transformed experiences. We'll have mini-monitors to, er, watch the game on TV instead of on the pitch in front of us and to order food without getting up. But, in fact, we will want to get up, as the Report thinks stadium designers will want to encourage standing and singing to avoid the sedentary atmosphere developing at grounds these days — and they'll do this by decreasing leg room or fitting "vibrating seats which are not very comfortable."
Alternatively, clubs could just stop making people sit down all the bloody time and build safe standing areas, but that's not very futuristic, is it?
The mobile stadium
In a further pseudo-retro move, we'll be able to recreate the freedom standing at matches allowed — letting us choose our viewing angle — by watching at home on a virtual avatar-based representation of the match .
'Players could be extracted as different coloured markers from camera footage,' says Graham Fisher. 'In
the future it is not impossible that what you'll be seeing will be an avatar-based representation of the game rather than a video version. From that point of view, you could choose where you were sitting, choose your viewing angles, choose to be in your favourite stand as it used to be when you were allowed to stand.'
If you squint really hard next time you're at a game, then, you might just be able to get a glimpse of the future.
Fan ownership
Continuing this nostalgic theme, the Report then reminds us fans have lost the connection of their club to the community, citing FC United of Manchester, Barcelona and MyFC as examples of interest in supporter ownership that it sees as growing in response to this. "We will see fans increasingly demand to be more involved in the ownership of their clubs or threaten to withdraw their support," it says.
On that note, it's interesting that much of this report about the future of technology focuses on recreating the increasingly lost appeal football had in the first place, the experience of standing, singing and supporting your community club as opposed to today's disconnected, global television audience (this tension is something very well captured by Brian at the Run of Play recently). But is the solution really 3-D representations and computer sprites filling in for actual fans?