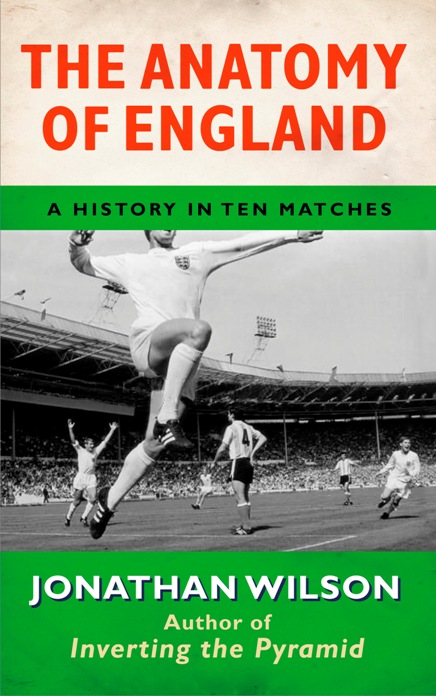 Jonathan Wilson is a very smart man and a very knowledgeable football writer.  He has already written two glorious football books (Behind the Curtain: Travels in Eastern European Football and Inverting the Pyramid: A History of Football Tactics) which will put him very high on the all-time greats list.  His knowledge of tactics is prodigious and he is by some distance the leading writer on the subject in the English language.
So it was with considerable interest that I learned earlier this year that he was applying his talents to the problem of English football's status as perennial underachievers in a new book called The Anatomy of England: A History in Ten Matches. In a sense, the book's topic is a bit unfashionable, and not just because of the underlying naffness of giving a shit about England in the first place.  Thanks to Simon Kuper and Stefan Szymanski and their recent book Soccernomics (which, perhaps tellingly, was released in the UK under the altogether more vivid title Why England Lose), we're no longer supposed to think of England as underachievers; rather, as the rest of the world has got better, England now simply punches is proper weight in the game, which naturally tends to favour larger and somewhat poorer countries such as Brazil.
Now, I for one find the Kuper-Szymanski thesis a bit unsatisfying.  England's problem isn't that it's punching its weight – rather obviously to my mind, the problem is that it is punching significantly below its weight and has been for decades.  Since their defeat of Argentina in Japan eight years ago, the England squad has really only played two decent games, both against Croatia (a team to which they also lost humiliatingly on two occasions).  Yet somehow, England is never short on confidence despite the fact that the team is in fact an endlessly gushing source of hubris and disaster – a sporting Deepwater Horizon, if you will.  And so it was that I eagerly opened this book in search of answers.
The book is arranged around ten matches which Wilson believes are either "defining" games (in the sense of being the beginning or end of a particular era) in the history of the England team, or of being generally illustrative of particular trends in the English game.  A chapter is then devoted to each match, with the space being roughly equally divided between a context-setting exercise (e.g. how had England got to the place it was that day?  Why were certain players picked and others not?  How had their opponents been doing recently?) and a tactical dissection of the match itself.
Each of these ten chapters are very good and some are quite superb.  In a chapter on England's humiliating defeat to Norway in the qualifiers for USA '94, Wilson takes the opportunity of Graham Taylor facing Egil Olsen to make a superb foray into the life of Charles Reep, the proponent of the long-ball game who helped to form both their coaching philosophies (by wilson santiago).  Wilson has clearly spent some serious time banging around Reep's archives, and he manages to skewer the man's essential monomaniacal battiness while at the same time remaining sympathetic to a guy who essentially was a retired coot with an enthusiasm for football and statistics.  (Some might have preferred a slightly longer dissection of why Reep's statistics were nonsense, but if you're really interested, there's a chapter on the subject in Inverting the Pyramid).
Other standout chapters include the one on England – Argentina 1966, which skewers the myth that it was an exceptionally violent match (a view which may have gained extra currency retroactively after the Falklands conflict) and provides an interesting Argentinian counterpoint to the better-known English account.  And the two chapters concerning matches for which no film footage exists (the 4-3 defeat to Spain in Madrid in 1929 and the comprehensive 4-0 win over Italy in 1948) are interesting exercises in the historian's craft.
But for all the wonderful writing and incisive analysis in these ten chapters, the book as a whole is something of a disappointment.  There's no question that it's packed with great stuff, but somehow all that doesn't quite add up to it being a great book.  It's probably unfair to hold the bar quite so high, but it's simply not in the same league as Inverting the Pyramid, the book to which it invites comparison.
The problem comes down to Wilson's reluctance to place any of the ten games into any wider theory about the English game.  Being English, he says, predisposes him to suspicion about "all-encompassing" theories.  But then, frankly, why write the book?
More to the point, why choose these ten games?    Some of these are probably obvious –  Wembley '53, Turin '90; but others are not quite as easily understood (why England-France '82 or England – Argentina in '66?).    Some of these choices would be clearer if he were trying to illustrate larger trends, but he isn't.  As a result, since there's no sustained thread that could ties these particular ten games together, what we've got here are essentially ten vignettes.  Extremely well-written and interesting vignettes, to be sure, but vignettes nonetheless.
This approach means is that there are large passages in the book that have almost nothing to do with England.  The chapters on Hungary '53 and Argentina '66 for example are excellent in their treatment of England's opponents (the former especially, since the Hungarian source material is so rarely used in England because of the language's fiendish complexity).  It is precisely these in-depth treatments that makes the individual chapters so good, and also precisely why it is so hard to find a consistent England-related thread making its way from chapter to chapter.  If you're reading for the meandering pleasure of dipping in and out of football history, it's great.  If you're looking for historical clues as to why England were so shit against Algeria last week, it's not (although there are a couple of excellent pages on the perennial Lampard-Gerard controversy – the gist of which is that the two *can* play together effectively, but it would have meant dropping Beckham and playing Rooney out of position, neither of which was permissible due to their star status).
What the book comes down to is the following 1) English footballers don't do "patient"; 2) English football as whole puts far too much emphasis on pace; 3) When England get into trouble, they instinctively fall back on a combination of long balls and pace.  Wilson does a good job of illustrating how these three propositions have been true for at least sixty years, but he's hardly the first person to have come up with these observations.  This, again, sort of makes one wonder why the book was written in the first place.
Another welcome touch in the book is the theme that the line which divides good teams from poor ones is actually quite small.  Few people remember now that after two games of England's "glorious" run to the semis at Italia, the team was (as they are today), winless.  But for some funny refereeing, England probably would have managed to make it to USA '94 and Graham Taylor would not be remembered as a root vegetable with a tenuous grasp of English grammar.  Indeed, he notes that the tactics which led to the glorious win over Holland in 1996 were very nearly identical to those employed in the disastrous defeat to Norway three years earlier, but relatively small adjustments of position and personnel made all the difference.
Finally, the book provides a telling reminder of how quickly even the wisest of expert opinion can change.  Providing an acknowledged but unnecessary hostage to fortune (presumably on the advice of his publisher) Wilson concludes his book by estimating England's chances in the present World Cup.  His summary (as of last fall when the chapter was written) was that thanks to Fabio Capello's tactical acuity, England were going to the World Cup with the best chances of success of any England team since 1970.  Perhaps, given the disasters of the last forty years, this simply was damning with faint praise; possibly, though, it is an indication that a manager's tactical acuity is of only limited value when presented with a team full of meatheads.`