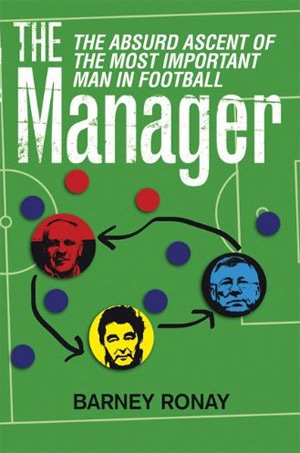 With The Manager: The Absurd Ascent of the Most Important Man in Football, Barney Ronay has put together what should be a very interesting book on the evolution of the role of the manager in football. Well, English football anyway: Johnny Foreigner doesn't really get a look-in unless he's followed Arsene Wenger and washed up on England's shores. However, because there is so much interesting material here, the monocultural perspective is disappointing, but ultimately forgivable.
Nor can one complain about the way the material has been stitched together. It's structured in a vaguely chronological fashion, moving from the late 19th century when the earliest sideline characters appeared (having a very different demeanor and responsibilities to today's bosses), through to the era of Jose Mourinho and company. But Ronay doesn't let chronology shackle him; though he's roughly moving forward in time, the real organizing principles of the book are aspects of the managerial persona, each receiving its own chapter. Thus we have chapters on Managers as Entertainers (Jimmy Hill, Terry Venables, Kevin Keegan), Managers as father figures (Matt Busby), and Managers as Scoundrels (Harry Redknapp), each of which is, in itself, organized in such a way as to see how this aspect has changed over time.
What gives the book its potential is that the author has a better-than-average sense of history, and a knack for relating sports to the zeitgeist of the times. Thus, according to Ronay, the loathing that Graham Taylor encountered as England manger wasn't simply due to his crapness; rather it was because of the way that he and his style of play became a metaphor for the wave of national feelings of crapness and self-loathing that accompanied the arrival of John Major, the poll tax riots etc. The hysterical reaction to Hungary's 1953 victory at Wembley needs to be seen not only in the context of the Cold War, but also in that of the early 1950s mania for UFO movies and stories – hence Bobby Robson's comment that the Hungarian style of play was so incomprehensible that "they could have been Men from Mars". You can take or leave these kinds of anecdotes as plausible explanations, but they do make for a more entertaining read.
So, there's an awful lot of good stuff in this book, enough to make it a real contribution to the crowded field of football books.
There's only one problem: the prose.
Some of you may know Barney Ronay from his occasional article in When Saturday Comes. Others may know him from the occasional article in the Guardian. But I would bet that most people, if they've heard of him at all, have done so through his occasional visit to the twice-weekly Football Weekly podcast, which has a large and fanatical following on both sides of the Atlantic.
Football Weekly has one host (the excellent James Richardson), and then a cast of dozens of support members who rotate in and out. The most frequent guests are La Liga guru Sid Lowe and professional curmudgeon/amateur stand-up comedian Barry Glendenning. Of the other two dozen or so irregulars, a few (Jonathan Wilson, Rafael Honigstein) are seriously insightful, but others have an unfortunate tendency to try to try to go toe-to-toe with Glendenning in aiming for the yuks. When this happens, the pod can get pretty juvenile, with guests trying to out-do each other with pop culture references and frequently dissolving into some fairly self-satisfied bouts of giggling.
I can't specifically recall any episodes with Ronay; to me he fades into the pack of the not-especially interesting guests on the more irritating episodes. And this matters, because the prose style of The Manager resembles nothing so much as a really bad episode of Football Weekly.
First, there's the endless and tedious pop-culture references. The fact that one of the earliest "colourful" managers, Wolves' "Major" Frank Buckley, wore then-scandalous plus-fours instead of trousers is seen as a reasonable excuse to spend a half-page discussing the more recent appearance of plus four's in rapper André 3000's latest fashion collection. Similarly, Busby, Shankly and Stein get described as being "like Cream, if Eric Clapton had been joined not by some other excellent 60s musicians but by Mick Jagger, Jimi Hendrix, and Liberace". Cringe-worthy.
Then there's the endless giggly sex bits. Ronay is not the first author to have noted the romantic aspects of the Clough-Taylor relationship, but he is, I believe, the first person to describe their mutual exploits as "manager-on-manager action", for which he deserves a kick up the arse. Then there's his discussion of the idea that managers are, in the mind of the fan, essentially sexless because the idea of their being in love makes them feel "like a litter of oedipally challenged children of divorce, goggling in silent revulsion as some heavy-bosomed step-mum comes shimmering into the paternal bedchamber stinking of middle-aged sex…" Besides suggesting that Ronay may have some issues with his own parents, it's not entirely clear what the hell this passage means. But it's indicative of a style into which he lapses all too frequently: overly-elaborate with no real point or biting edge. Like a bad Arsenal performance, in fact, only the frustration lasts considerably longer than 90 minutes.
What makes all of this perplexing is that Ronay is clearly capable of actually producing good writing. Even within this book, he occasionally manages to spend two or three chapters at a time out of the slough of sophmoricness he has dug for himself. His take on Arsenal's Herbert Chapman and Geroge Allison are excellent and his chapters on Busby and Revie, focusing on their (arguably pathological) paternalistic desire to run their clubs as "family" are simply superb. On more modern ground, where the discussion turns to Wenger and Ferguson, who he considers the teleological apex of managerial evolution — a case more easily made for the Scot than the Frenchman — his analysis is solid though not especially unique. The arrival of Mourinho, however, sends him right back into ironic tabloid-ese, calling him a "Portuguese Man of PHWOOOAAARRR" (which is admittedly kind of funny, though the credit goes to the Daily Mail rather than to Ronay).
This book has to be marked down as a disappointment. There's an awful lot of good material here — good enough even to shine through some of the most appalling writing I've seen in some time. But Ronay's desire to seem clever simply ruins what could have been an intelligent book. Shame.