Back in April, Portland had raised the tifo bar in the Cascadia region of North America at their home opener in Major League Soccer at Jeld-Wen Field:
(Though, honestly, I preferred this Kings of Cascadia display from last year – less self-reverential. And of course, the Space Needle tifo.)
With that very much in mind, Seattle fans in the Emerald City Supporters' group set out to do something special of their own for the team's first MLS meeting with Portland at QWest field this past Saturday night.
On their opening night, the Timbers Army stepped up their game. ECS finally has a rival supporter group to truly compete with. They raised their game, and everyone and their mothers are drooling over what they saw at Jen-Weld Field the rainy night of April 14th. Many have already forgotten that the bar for atmosphere and passion was set by the ECS and Sounders faithful. An atmosphere that put MLS Commissioner Garber in tears, it being a real life expression of his long term dream of what MLS and soccer in this country can be. May 14, 2011 will be the day we all remind the world who is king in Cascadia. It is the day we will all put forth the support that rightly puts us at the top of supporter groups in North America!
Forget the ahistorical silliness of "ECS finally has a rival supporter group to truly compete with", Seattle fans did produce a display worthy of the occasion. It was the right way up, and everything: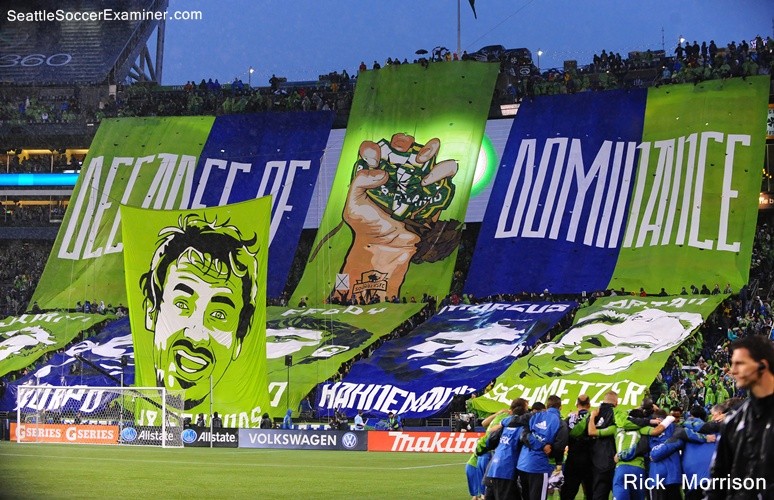 It pains me as a Fire fan to say it, but that's some world class tifo from ECS. Scale, execution and concept are all top-drawer. Steve Kelley was certainly impressed:
Moments before kickoff, the Emerald City Supporters dramatically unfurled massive banners that commemorated the rivalry.

Large drawings of former Sounders Marcus Hahnemann, Preston Burpo and Jimmy Gabriel floated down the south end zone along with pictures of assistant coach Brian Schmetzer (the Sounders' USL coach) and forward Fredy Montero.

Then slowly another banner rolled down from the deck above, displaying a picture of a fist crushing a Timbers ball and proclaiming, "Decades of Dominance."

Finally, from below, a banner with a drawing of Portland nemesis Roger Levesque unrolled with a jab at Timbers fans that read, "48 seconds." In the 2009 U.S. Open Cup against Portland, Levesque scored in the first 48 seconds.

So maybe this wasn't Arsenal and Tottenham or Manchester United and Manchester City, but it was a celebration of what the game slowly is becoming in this country.

The banners were spectacular.
Eh, I can't say I've ever seen EPL fans unveil anything even remotely in the postcode/zip code of a major MLS tifo display. Certainly nothing they've created. It added to an outstanding atmosphere in the stadium. This is what Portland-Seattle should be about, not the hipster-rivalry nonsense this rather incomplete Wall Street Journal article got into last week.
Nitpickers might say of the display that 'Decades of Dominance' is a little overwrought, but if you're going to say something a little over the top, may as well display it in an epic fashion. This was epic.
It should also certainly be noted that Portland fans brought an impressive away tifo to the table as well at the game, something we hopefully will see more of in MLS and difficult to do away from home:
Where does all this tifo fit in MLS history? I guess we'll leave that for Shawn Francis to figure out. There has been impressive stuff done in many places now over the years, each spurring on rival groups to greater heights. And finally, MLS front offices and headquarters seem to realise the value of these displays to the culture and promotion of soccer in North America as something distinct from other sports here.
At the end of the day, the purpose of tifo is to inspire your team and your fans and in a rivalry stoke the embers: on Saturday night, both sets of fans did this in a manner that can only engender more DIY supporter culture in North America, a really healthy development for the sport here. The good part about this for Cascadia is that it helps make the rivalry between Portland and Seattle about devoting what you can to do support your team in a positive fashion, and not about fighting or other nonsense.