Serious trouble erupted in Serbia and Greece this weekend.
As Red Star Belgrade took on Hajduk Kula in the Serbian first division, a policeman was seriously injured after fans spotted him filming them in plain clothes.
The policeman (right) fired two shots into the air after he had been hit with burning flares, his clothes setting on fire.
"The fans recognised a police officer on duty wearing plain clothes and attacked him," police commander Borivoje Tosic told Belgrade media. "The officer sustained serious injuries from burning flares and broken seats and is receiving treatment in hospital."
Three fans have been arrested after riot police moved in, and the officer is being treated at a military clinic. As far as I can gather, thankfully his life is not in danger.
More photos after the jump. Warning: they show the events graphically.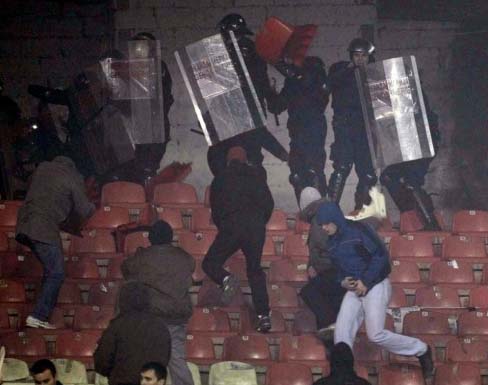 Meanwhile, in Greece, the game between AEK Athens and Aris in Thessaloniki was held-up for 85 minutes after a flare thrown from the crowd nearly hit AEK's Traianos Dellas. The referee ordered the AEK fans to leave the stadium, their reluctance leading to the delay.
Bizarrely, it was only weeks ago that trouble had erupted when Red Star visited Aris in the UEFA Cup.