The past week has seen the two countries I've lived my entire life in, England and the United States, both unveil new national shirts. I'm slightly more pleased with England's retro look, as to me, the United States continue to fail to build any identity with their kits.
The new England away kit was unveiled today (hat-tip: The Offside):
(See also photos and comment at Football Shirt Culture).It reminds of their 1980s Admiral kit in the styling:
I'd say it's a winner, but then, I still have horrible nightmares about the days when England's second shirt was grey instead of red. What do you think?
Meanwhile, last week the U.S. revealed theirs: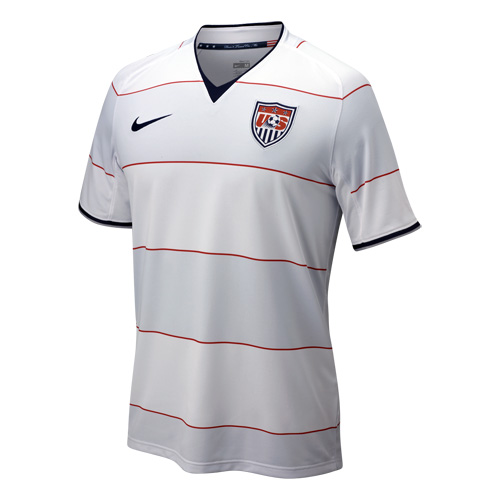 This shirt has elicited wildly contrasting verdicts, with some calling it a preppy golf shirt, and others appreciating its simplicity. I don't think it solves what Slate last year called "the U.S. soccer team's growing uniform crisis".
In other national team jersey news, France has a new away kit, Portugal has a new home shirt, and South Korea went to considerable lengths with their Nike launch video for their new look.