T&Cs apply | Commercial content | New Customers Only | 18+
Ladbrokes is one of the most familiar names in the world of sports betting, with a client base of millions spanning the entire world. In this article, we'll be focusing specifically on the Ladbrokes withdrawal and deposit process, highlighting the process of getting money into and out of your account. Like most leading brands, the payments team here keeps the Ladbrokes deposit and withdrawal system as simple as possible.
Step by Step Guide
There are many difference ways of getting money into an account at Ladbrokes – Ladbrokes PayPal payments having become increasingly popular over recent years. However, debit cards remain the payment option of choice for most, which in the case of most transactions are both free and processed quickly. After you register a card or payment method, every future Ladbrokes deposit will be much easier and faster to carry out.
How to do a Ladbrokes Deposit
Log into your Ladbrokes account, or open an account if a new customer.
Click your name at the top of the page and choose the 'My Account' option.
Enter the full details of the debit card, or choose a card already saved in the system.
Enter the amountand check if you can qualify for a deposit bonus.
Click the deposit button and the process will begin immediately.
How to do a Ladbrokes Withdrawal
As for Ladbrokes withdrawals, it's a very similar process to that of making a Ladbrokes deposit. Once again, Ladbrokes PayPal withdrawals are becoming more popular all the time, but it's still debit cards that top the table for most.
As above, just a few simple steps are required to initiate a Ladbrokes withdrawal, which in the case of debit cards are as follows:
Log into your Ladbrokes account using your chosen credentials.
Enter 'My Account' by first clicking on your name at the top of the page.
Click on 'Withdraw' from the cashier page.
Enter the amount you would like to withdraw.
Click the withdraw button and the process will begin (Ladbrokes withdrawals can take up to 10 business days).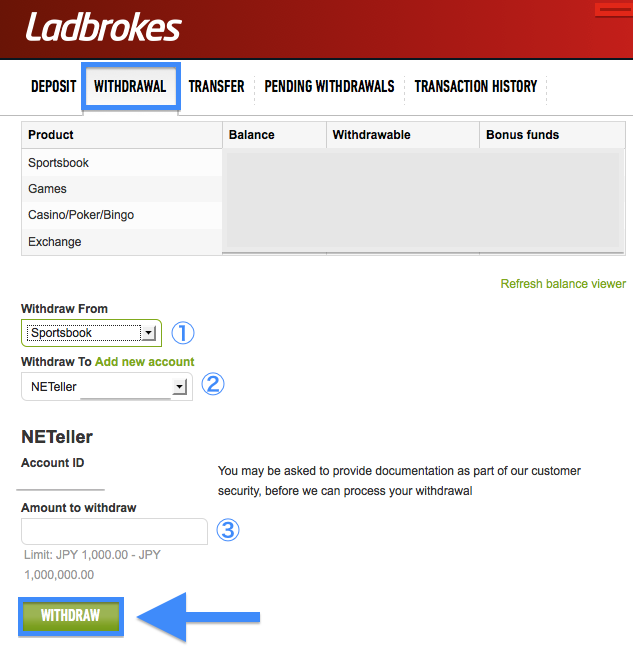 Ladbrokes Payment Methods
A number of popular payment types of accepted when making a Ladbrokes deposit, which in most instances are processed quickly and without excessive fees or commissions. Exact terms vary from one payment type to the next, with Ladbrokes PayPal and debit card deposits being the most popular options of all.
Check out the following table for a full rundown of available deposit payment options:
| | | | |
| --- | --- | --- | --- |
| Deposit method | Minimum deposit | Fee of transfer | Period/duration |
| Debit Cards | £5 | Free | Instant |
| PayPal | £10 | Free | Instant |
| Neteller | £10 | Free | Instant |
| Paysafe Card | £5 | Free | Instant |
| Skrill | £10 | Free | Instant |
| Bank Transfer | £10 | Free | 1 to 5 working days |
| In-Person | £1 | Free | Instant |
It's exactly the same story when it comes to making a Ladbrokes withdrawal, at least in terms of payment types. The vast majority of popular payment types are supported 100% free of charge and most payments are dealt with swiftly. Here's a brief rundown of the accepted payment types and specifics for Ladbrokes withdrawals:
| | | | |
| --- | --- | --- | --- |
| Withdrawal method | Minimum. withdrawal | Fee of transfer | Period/duration |
| Debit Cards | £5 | Free | 3 to 5 Working Days |
| PayPal | £10 | Free | Min 6 Hours |
| Neteller | £10 | Free | Min 6 Hours |
| Paysafe Card | N/A | N/A | N/A |
| Skrill | £10 | Free | Min 6 Hours |
| Bank Transfer | £10 | Bank Fees | 1 to 5 Working Days |
| In-Person | £5 | Free | Instant |
FAQs
What are the fees of transfer for Ladbrokes deposits & withdrawals? Are there any?
Most payments in both directions are processed and completed 100% free of charge – Ladbrokes deposits and withdrawals alike. However, bank wire transfers may attach a fee, depending on what the bank itself charges. Ladbrokes withdrawals are not subject to any fees or charges, but the customer will pay any charges added on by the bank for wire transfers.
How does the "proof of identity" process work?
Most major sports betting operators these days ask their customers to provide proof of identity, before permitting them to make any withdrawals. As such, when requesting your first Ladbrokes withdrawal, you may be asked to submit ID before the withdrawal will be processed. In such instances, accepted forms of ID include passports, driving licenses and government-issued ID cards, along with recent utility bills and bank statements. Don't forget to check for a Ladbrokes promo code if you've not yet signed up.
Minimum deposit/withdrawal?
The vast majority of Ladbrokes deposits and withdrawals are subject to very low minimum amounts. For Ladbrokes PayPal deposits and withdrawals, the minimum is set at £10. For debit cards, it is £5. If choosing to make a Ladbrokes deposit or withdrawal in person, the minimum deposit is just £1 and withdrawals can be made from as little as £5.
Time of transfer for both Ladbrokes deposit and withdrawals?
With the exception of bank wire transfers, all Ladbrokes deposits are processed and credited instantly. In the case of ban transfers, processing times vary from 1 to five working days, by which time the money will be credited into the account. In terms of Ladbrokes withdrawals, debit withdrawals are a little slower than with some rivals, taking 3 to five working days to process. Ladbrokes PayPal withdrawals are among the fastest at around six hours or so, while bank wire transfers take between 1 and 5 working days. In-person Ladbrokes withdrawals are of course handled instantly.
How to cancel a withdrawal?
Pending Ladbrokes withdrawals can be cancelled only if the transaction has not surpassed the cancellation period. Generally speaking, most withdrawals can be cancelled if the provider is notified quickly enough, given the way in which most Ladbrokes withdrawals are subject to certain processing times. However, all such requests may or may not be actioned entirely at the discretion of the company.
Which currencies are available on the site?
At the time of our review, Ladbrokes accepted a wide variety of currencies from all over the world, including the US Dollar, Euro, UK Pound Sterling, Australian Dollar, Canadian Dollar, Danish Krone, Norwegian Kroner, Swedish Krona, New Zealand Dollar, Japanese Yen, Polish Zloty, Chinese Yuan, Hong Kong Dollar, South African Rand, Swiss Franc, Singapore Dollar, Thai Bath and Malaysian Ringgits.
Do all the methods listed above to international transfers?
Yes, although Ladbrokes PayPal payment in both directions are not allowed in certain countries, just as processing times and minimum deposit/withdrawal amounts may differ slightly.
Customer Service
The standard of customer service provided at Ladbrokes is nothing short of exemplary, with lines open 24 hours a day and highly-talented team members showing real knowledge and enthusiasm. Getting in touch with queries on any kinds of Ladbrokes deposits or withdrawals is easy, with fast response times guaranteed across the board.
Live chat is available via the primary Ladbrokes website at all times, while the company can also be contacted by using the following information:
Ladbrokes / Ladbrokes PLC
Imperial House, Imperial Drive
Rayners Lane, Middlesex
United Kingdom HA2 7JW
Fax: +350-200-47408
Tel: +44 208 429 7971
E-mail:care@ladbrokes.com
If you've liked this article, why not check out our full Ladbrokes review?