In 1997, Dajeon Citizen became the first club in South Korea's top flight, the K-League (founded in 1994), that did not belong to a major company. Instead, they were what's called a "citizen club" with shares issued allowing supporter ownership. Perhaps as a consequence they are known for their passionate fans.
In 2002 a second citizen club, Daegu FC, joined the K-League too and play in Korea's biggest sports arena, the Daegu World Cup Stadium (capacity 65,754). Neither team has been very successful, though both still ranked in the top five in attendance in 2007
But it's Incheon United, following in the footsteps in 2003, who are blazing a trail for Korean football. 47,000 local shareholders put money into the team, and they were richly rewarded when Incheon stormed to the championship series in 2005, eventually finishing as runners up. United's average attendance of 24,535 was extremely impressive for the K-League and they have now turned a profit two seasons in a row. Their crowds have fallen since then, but they're still third in the league for attendance.
Incheon have big plans for the future. They have launched an extensive youth academy, and their plans for a new stadium in the Gang-seo district could create the best football venue in the country.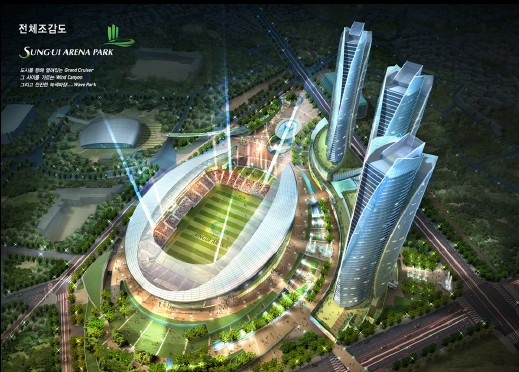 They'll probably want to turn off those distracting light beams during the games, but these are grand plans for a club founded less than five years ago. Construction is expected to begin at the end of the summer for the 20-25,000 capacity stadium. It will be a far more intimate and supporter-friendly venue than the current Incheon Munhak World Cup Stadium, an enormous 50,256 seater stadium with a running track around it.
The empty spaces a giant World Cup stadium ensures is not an unusual sight in Korean football generally, unfortunately. The level below the K-League, the National League, is hardly on the level of the English Championship or even America's USL: it is semi-pro and features crowds often in the dozens. Still, new fan-based clubs such as Bucheon FC 1995 (founded in 2006 after Bucheon SK were relocated to Seogwipo) and Seoul United (started in 2001 after the K-League clubs left Seoul) have started-up one tier lower in the K3 League, pointing to another supporter-based way forward.
Korean football, though it has a stable top flight with the K-League, has not managed to funnel the enthusiasm for football we saw the Korean national team generate in the 2002 World Cup into the domestic game to a great extent. Average attendance has declined in the years since the World Cup, now down to 11,871.
Incheon's success suggests a less corporate approach to ownership may be the best way for the K-League to prosper.
Sources: Fifa.com, ROKfootball.com