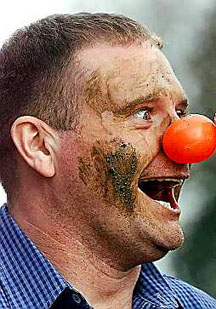 Given the news today that Paul Gascoigne has been sectioned — detained under the Mental Health Act at the Hilton Hotel, following a further string of bizarre behaviour — a further sad tinge of poignancy is added to all those old photos of Gazza clowning about, and those memories of his magic on the pitch.
We always knew, of course, that he wasn't "normal". The tantrums, the tears, the typical clown-trait of guising his misery in ever more bizarre jokes and comic behaviour fooled few as the joke wore off in the 1990s, at the same time his play on the pitch lurched erratically.
The story of his rise and fall has already been told in Ian Hamilton's brilliant book, Gazza Agonistes, in which the author asks, "Perhaps this hero was never really meant to be heroic? Maybe there was something in his personality that ran counter to the fantasies his soccer gifts induced? Was Gazza actually 'ill-fated'?"
Let's remember, now, that Gascoigne was once almost the world's best footballer — and perhaps he was, for brief moments here and there from 1989 to 1991. He was the man who relaunched interest in English football to the stratosphere it's in today.
For those of my generation, he was our first footballing hero: after the debacle of Euro '88, the tragedies of Heysel and Hillsborough and English football's exclusion from Europe, his performance at Italia '90 reconnected us to the global game.
Gascoigne's abilities as a football marked him out as distinctly alien to the English game. Josez Venglos summed it up perfectly after Gascoigne tormented his Czechoslovakia team for England in an audition for a 1990 World Cup spot: "Gascoigne does not look like an English footballer", he said.
Gascoigne ran, arms flailing, with so much power and purpose it seemed impossible he could keep the ball on a string under his feet, but somehow he did, taking over the world stage as if it were his backyard.
After England's defeat in the World Cup semi-final, and Gascoigne's infamous tears, 120,000 camped out at Luton Airport to welcome him home. And he showed up wearing a pair of giant plastic boobs.
As Hamilton puts it, "There he was, the apotheosis of yuk, and grinning wickedly as if he had pulled off some comic coup."
He was fodder for the tabloid press, his every turn detailed, a love/hate relationship that utterly baffled Gazza, a kid who always just wanted to be loved.
It was this celebrity that Gascoigne's naturally fragile personality could not handle. He was not a man with the dullness of a Beckham or an Owen who could take the national spotlight unblinkingly, nor had he brains enough to deal with it rationally. Sadly, it is not a surprise to find him in the state he's in today.
This is the Gazza I like to think of: