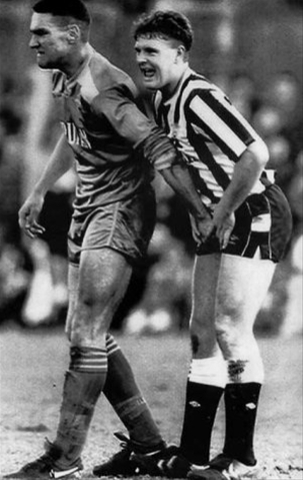 This is the first in a series looking at what happened to Wimbledon F.C. and the two clubs that came after its demise, A.F.C. Wimbledon and Milton Keynes Dons F.C.
The former are a non-League supporter run club created in protest against the move of Wimbledon F.C. to a town sixty miles away with no connection to the club's history. The latter are derided by A.F.C. Wimbledon fans as "Franchise F.C.", yet the media are now lauding MK Dons' success as they sit atop League Two.
Before exploring what's happened in each case and the meaning of it for the future of football, we'll need to explain the remarkable rise and fall of Wimbledon F.C. in the first place.

Wimbledon F.C. rose from the grit and mud of Plough Lane in the Merton Borough of London. They had long plied their trade in the nether regions of English non-League football since their founding in 1911, but made their name with some F.A. Cup giant-killing heroics in the 1970s, eventually winning a place in the Football League.
Not ten years later, now in the top flight thanks to a series of promotions, in 1988 Wimbledon headed to the F.A. Cup Final to take on Liverpool. Vinnie Jones (pictured right on another occasion making friends with Paul Gascoigne) and the rest of the "Crazy Gang" beat the "Culture Club" at Wembley Stadium 1-0.
It was an upset, but not another giant-killing, for Wimbledon weren't half-bad: though criticised for their primitive style, they finished eighth in the top flight that year, and would stay there for another twelve years despite relatively small crowds and strictly limited financial resources.
That same year, the club's hopes to build a new ground in Merton foundered. Again and again fans dealt with disappointment, and protested against new plans by their owner, Sam Hammam, to merge them with south London's Crystal Palace. When Hammam said new football legislation made Plough Lane impractical, they ended up at Palace's Selhurst Park anyway on a groundshare in 1991 that would last through the end of the decade, but they at least kept their identity.
Six years later, as David Conn puts it in The Beautiful Game?, "their soul was slowly freezing over at Selhurst Park" and Hammam cashed out, selling 80% of the club to two Norwegians. Soon it emerged that the Norwegians had bought in with a scheme to find Wimbledon a new home. But not only was it not in their native borough, nor in London, it was not even in England: the owners wanted to pack up and take the club to Dublin.
Over supporters' protests, the Irish franchise idea was approved by greedy fellow Premier League owners who fancied a larger slice of the Irish appetite for English football. The Irish F.A., however, had other ideas, and convinced the English F.A. to step in and block the move.
It was a short-lived victory for Wimbledon fans. Hammam had left the club, and a new chairman, Charles Koppel, arrived in 2000. The same season, Wimbledon fell out of the Premier League and lost over three million pounds. The fans wanted a return to Merton, but Koppel said it wasn't feasible.
And then along came Peter Winkelman, described by Conn as "a shaggy haired music producer with a salesman's silver tongue" and a man with a plan: to move Wimbledon to his own town, Milton Keynes. It was all part of a property development plan involving a new stadium and supermarket for Milton Keynes, 45 miles north of London.
Milton Keynes shopping centre [Mike and Debs]
Milton Keynes was the largest of the Government-created "new towns" of the 1960s in the south-east of England, built to soak up and relieve the congestion in London and known as a somewhat sterile place. Winkelman said that it was the largest town in Europe without a professional football club. There were four non-league teams there already, but Winkelman argued a major new development project would be more easily financed by transplanting a current League team there as bait.
The Wimbledon board embraced the idea, as the owner's had put themselves in trouble after their original plan to move the club had been scuppered. The fans were furious. To move the club 62 miles away, to a home not even in London, to a place with no connection to the club at all, was absolute anathema.
The Football League's rulebook was a serious issue for Winkelman to deal with. It stated that "The location of the ground, in its relation to the conurbation. . .from which the club takes its name or with which it is otherwise traditionally associated, must meet with the approval of the Board." It didn't. The Football League Board voted against the move in August 2001, and fans praised the decision as a victory against the introduction of the concept of "franchising" football teams to England.
Milton Keynes Station [UKPlus Photos]

Koppel appealed, and the matter was ultimately decided upon by an F.A. panel in 2002. Stating the club's financial future was too bleak as things stood, and claiming to see no available site for a new ground in South London (despite a Merton Borough councillor's assurance a 20,000 seater stadium was viable at Plough Lane), the panel approved the move.
As When Saturday Comes wrote at the time of the "They decided, like a character from Alice in Wonderland, that Milton Keynes is Wimbledon's real home."
The second part of the series later this week will look at what became of this wreckage.