This was how it began:
Graphic designer Brent Diskin had long liked soccer, but grew up in a household proud of its support of Oregon State's college football team, and that was his main sporting interest until very recently. So how did Diskin end up producing the posters above, upon the Portland Timbers' elevation to Major League Soccer in 2009?
"It was through my eldest brother – an alum of Concordia College's soccer team – that I became aware of the Timbers and was able to make it to a few matches," Diskin told Pitch Invasion. "When the announcement of the Timbers' promotion to MLS in March of 2009 was made, I was carried away in my brother's excitement and immediately started making my first few propaganda poster modifications (with "MLS – You're Next! " being the first). That is when I moved from being a simple fan to a supporter."
As so often happens to supporters who become involved with passionate groups such as the Timbers Army, a toe-in-the-water soon becomes an obsession. Though Diskin's schedule and budget made it tough for him to make it to many games, he continued to contribute how he could with his graphics, and began building from the natural connection of the Timbers Army to war imagery.
Yet as his work has progressed and Diskin has become more embedded into Timbers Army culture, so has his output reflected the diversity of the group's grassroots support.
"I understood fairly quickly that the Timbers Army has a strong DIY culture and my little efforts will always be in support of that," Diskin continues. "While I love making them because they allow me to be creative and push my abilities well beyond what my day-to-day work allows, I make them because I love my team, my Army, and my community. Simply, this is one small way I can help support the Timbers beyond losing my voice at Jeld-Wen Field. It has always been my hope that they help keep everyone's action and energy up, not only in the offseason, but during the year's campaign. I'll certainly take a pint, but never a dime for my support."
Of course, a key part of any supporters' culture is rivalry, and perhaps for nobody more in North America than for Timbers and Seattle Sounders fans.
Not just the Sounders, however.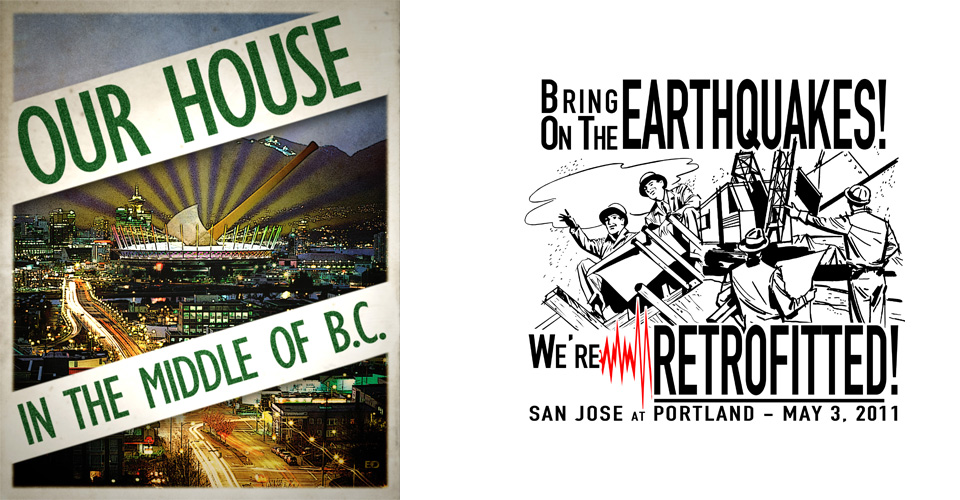 Most of Diskin's work is, though, positively natured. Away travel is promoted with this classy series.
And as Diskin concludes, ultimately it's about support of the team on the field: "These days, I finally have a season ticket and that guarantee that I can make it to every match, but I'll still keep up my efforts and support and do all I can as a supporter to support the lads and bolster the spirits of my Army. As Timber Jim is often heard saying, "Spread the Love"…and this is my small way of doing so."
Like most MLS supporters, for Diskin, the 2012 season cannot begin soon enough: he's just able to express it visually in a way most of us cannot.