New Customers Only | Commercial content | 18+
When Johann Cruyff died, the football world gathered to mourn the passing of one of the game's most iconic footballers, and one of its most influential managers. Throughout his career Cruyff had proved himself not just an exceptional and progressive player, but a manager capable of taking the game to newer and higher levels.
When looking back at his illustrious career, many have wondered how a young Johan may have fared in the intensity of the modern game.
The first thing to remember is that the modern game is a product Johan Cruyff. FC Barcelona, Ajax, the Spanish national team, Arsenal and indeed Bayern Munich are all heavily influenced by the style of total football that was pioneered by Cruyff as a player, and Rinus Michels as a manager. As Eric Cantona said, "He [Cruyff] was at the heart of a revolution with his football. Ajax changed football and he was the leader of it all"
Under Michels, Cruyff adopted a revolutionary position as the team's roaming centre forward. Instead of lurking around the opposition goal he would drop deep, push wide and generally move himself around the pitch to cause maximum impact.
His Ajax team would react to this, moving around to cover his movement and created a far more fluid and dynamic team than was typical of the game at the time. This style of play continued through his career, at both club and international level.
Cruyff then was reminiscent of the way Barcelona under Guardiola worked around the genius of Lionel Messi, who was given unlimited freedom while his team-mates worked around their star player. Could Cruyff have played in Guardiola's Barça team? Almost certainly, he had the mind-set and the intelligence to keep up with the demands of the team, after all, he was the one who laid the foundations for that style of play to flourish in Catalonia.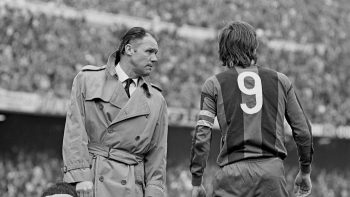 Rinus Michels and Cruyff
It was Cruyff who brought the concept of total football, the basis of Tiki-taka, to the club, and the one who revolutionised the La Masia academy so generations of players came through with the philosophy instilled.
As football journalist Graham Hunter said, "If he [Cruyff] had not installed a culture, a philosophy at the Nou Camp, then Lionel Messi would have been rejected and sent home as an underdeveloped 13-year-old kid and Andrés Iniesta wouldn't have been selected."
The only thing that may have limited Johan Cruyff from flourishing in the modern Barcelona team was his 20-a-day smoking habit, which would no doubt hinder his ability to keep up with the physical demands of game as it is today.
Pep Guardiola, the only manager to top Cruyff's collection of silverware at the club said of the great man: "Throughout my career I've simply tried to instill what I learned from Johan Cruyff. He has had the biggest influence on football out of anyone in the world, first as a player and then as a coach. 
It was not just at Barcelona where Cruyff's legacy was strong, when Guardiola moved to Bayern he exported the philosophy to Germany. Although Robert Lewandowski plays a more traditional centre forward role than Cruyff or Messi did, the team is built around the total football ideals of fast movement, quick passing and most of all, fluidity.
Under Pep, Bayern's style radically changed from the 4-2-3-1 seen under Jupp Heynckes. Players roamed the pitch, interchanging positions and functioning in an evolved form of Ajax's 1970's team.
If we were to place a young Cruyff into that fluid setup, surrounded by the likes of Thiago, Muller and Vidal would he be found out, or flourish in a side that is essentially his creation? We can only speculate, but it would be highly unlike that the icon of Dutch football would look out of place, even this many years.
Dutch journalist Hubert Smeets described Cruyff as, "the first player who understood that he was an artist, and the first who was able and willing to collectivise the art of sports."
It was this approach to football that made Cruyff a step ahead of his peers, the reason why he was such a consistent tactical innovator and the reason why he would be one of the few players who could thrive in a different generation of football.
Sometimes when watching archive footage of iconic players, you get the sense that they were very much products of their time, and that against modern opposition they would not fare as well. With Cruyff, his footballing intelligence and style is both of its time, and distinctly present day.
So, would a young Johan Cruyff survive and thrive in the modern game? It's as likely as it is for you to find a great William Hill promo code. With two of the most successful clubs in the modern era playing a type of football so closely associated with the great man, and the world's greatest player operating in a very similar position, it seems as though Cruyff would be just fine.
---