Catching up on the sports news after the action is better than missing out completely, but watching it live is best of all. That's why Bet365 introduced Bet365 live stream. Thanks to Bet365 live stream, Bet365 customers need never miss out on the best sporting action.
---
Which markets/events are covered on Bet365 live stream?
Currently, Bet365 live stream covers the following markets:
Ice Hockey

Tennis

Basketball

Football, Snooker

Badminton

Rugby Union

Volleyball

Handball

Table Tennis

Cricket

Horse Racing
Bet365 live stream shows literally tens of thousands of events each year and provides a wide range of betting markets, including in-play markets.
The specific bets offered depends on the sport but to take football as an example, the markets can be broken down into:
Event markets (goals, corners, penalties…)
Player markets (first and second scorers, clean sheets…)
Team markets (most corners, first team to reach a certain number of corners, first team to score)
Generally speaking the more important the match, the more options will be available.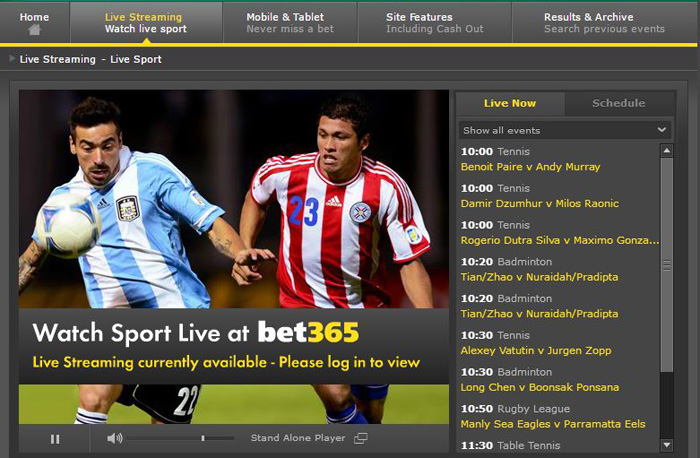 What are the network requirements for Bet365 live stream?
As this is essentially a video-streaming service, it really needs a broadband connection of 512kbp/s or better. This is feasible over Wi-Fi and 4G but may be less achievable over 3G services. If you have a slower speed you may be able to receive an audio service without the video.
Users having difficulties with the live-streaming service can use a broadband-speed testing tool, such as the one available on the Bet365 website. This ensures that the actual speed is in line with the speed you are expecting.
If it is not, you may wish to check whether any software running on your computer is impeding the video stream. This may be security software, such as firewalls, or it may simply be your computer trying to perform another resource-heavy task, which overloads it and that the streaming will only start when this task is stopped.
If none of this applies, it may be that your internet service provider (ISP) is experiencing heavy demand and has implemented a "fair usage" policy which will impact on bandwidth-intensive services such as video streaming.
If you are unable to identify the problem, then you can always call Bet365 for support, they will be happy to help.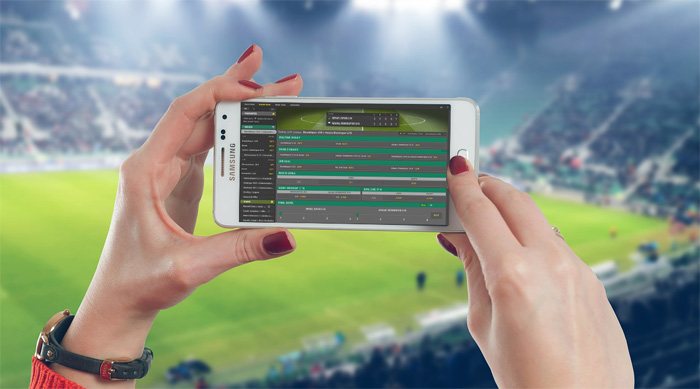 What countries is Bet365 live stream available in?
While Bet365 live stream is, in principle, available around the world, users should note that licensing restrictions prevent Bet365 from offering Bet365 live stream from offering certain sporting events in the user's home country. For example in the UK Bet365 live stream is unable to show Premier League events but does show Champions' League qualifiers.
For horse racing, there are several restrictions for customers. These countries include:
USA
Australia
New Zealand
Japan
Hong Kong
France
South Africa
Sri Lanka
Caribbean
Customers blocked from streaming Racing UK include:
USA
Australia
New Zealand
Hong Kong
France
Singapore
Customers restricted from accessing South African Racing streaming include:

USA
Australia
Hong Kong
South Africa
Singapore
Is there a charge for Bet365 live stream?
The service itself is free, but users do need to have either a funded sports account or to have placed a real-money bet in the 24-hour period prior to the start of the event they wish to watch.
Users should be aware that the live-streaming service is to allow Bet365 customers to watch sporting events for their personal enjoyment.
It is strictly forbidden to record, capture or reproduce the videos without the express permission of Bet365 or to use them for any form of commercial gain whatsoever without the agreement of Bet365.
What technical points do I need to know?
You must be logged into your Bet365 account to access the service.
The live streaming service is available for Windows (XP and higher) and Mac OS and for most modern browsers.
Mobile
It is also accessible to mobile users via the Bet365 betting app, which can be downloaded from the iTunes store (for Apple users) or from the Bet365 website directly for Android, Windows Phone and Blackberry users.
Full review of the Bet365 sports betting app available here.
Desktop/Laptop
For desktop/laptop users, it is best to set your screen resolution to 1024 x 768 or higher. Those using mobile devices should check that their device resolution is appropriate for watching video as it unlikely that it will be possible to change this through the settings.
Desktop users will need to have Flash installed and Javascript enabled to view the video stream. Bet365 offers a tool to help its customers check whether or not they have Flash installed.
Javascript needs to be enabled within the browser itself. A quick internet search will give the instructions for your choice of browser.
Want to sign up on Bet365, create an account with a bonus code here!