An open letter to Andrew Hauptman, Chairman and Owner of the Chicago Fire Soccer Club, by Tom Dunmore, Vice-Chairman of Section 8 Chicago and member of the WB05 supporters' group.

Dear Andrew,
Twelve years ago today, as you know, a soccer club was born in Chicago. Though some marketing wizards at Nike wanted it to give it some cool skater street cred and name it the Chicago Rhythm with trendy turquoise shirts to boot, the wiser heads of Phil Anschutz and Peter Wilt prevailed. So on the 126th anniversary of probably the most important event in the city's history, the Great Chicago Fire, a club with an identity befitting its city was born.
On that day, October 8th 1997, the Chicago Fire's name, badge, and uniforms were unveiled at Navy Pier in downtown Chicago. You cannot manufacture history, but the identity of the club created was one that gave the team a chance to become part of the fabric of the city's sports community and tapestry, unlike — say — the Fire's now defunct twin, the Miami Fusion.
Fifa.com explains what happened next: "Since the announcement was made, the club went on to win a league and cup double in its inaugural season (1998), garner a reputation for having the most vociferous fans in the growing MLS, and reflect the cultural framework of the iconic 'capital' of the American mid-west."
Like you, I'm actually fairly new to the Fire and first followed soccer in England, so I had to look up this history on the internet as well when I became a supporter a few years ago. I only moved to the United States earlier this decade, and though I attended many games when the Fire played at Cardinal Stadium in Naperville and at Soldier Field, I only became a season ticketholder as recently as 2007 — the year you purchased the team and became a fan yourself.
Like you, I was particularly intrigued and attracted by the history the club had already developed in its first decade of existence. Thanks to many legendary players, supporters and staff — from Ring of Fire members Piotr Nowak, Luboš Kubík, Frank Klopas, Bob Bradley, Peter Wilt and (from later this month) Chris Armas to the thousands who have worked for and supported the team — the words "Tradition, Honor, Passion" enshrined on a concrete remnant of the original Section 8 from Soldier Field now at the mid-field tunnel of Toyota Park do not ring hollow.
The many fans I know who have attended dozens of away games across the country and even outside the United States following the Fire do not seem like lunatics (most of the time!). They seem like the kind of passionate supporters the Fire were lucky and smart enough to earn by treating the club and its followers as family in the early years of its existence. The men and women who were children at the Fire's inaugural match at Soldier Field in 1998 are now grown-up fans who have followed the Fire for over a decade. I should know: I'm married to one!

The important point is, corny or not, Fire supporters felt they were following a special Club, and that's rare in a league that's somehow tolerated the New York MetroStars/Red Bull New York franchise for even longer.
You know this, because you said so when you purchased the club. I've met you, and I believe you mean it when you say you want to build on that foundation and that you love the passion of the club.
Unfortunately, you're based in L.A. so we haven't had many more opportunities to hear from you. But at the time of the purchase, you said that "As a longtime soccer fan, I am so excited about our purchase of the Chicago Fire. Everyone at Andell, especially my wife Ellen and I, shares the Fire's commitment to tradition, honor, and passion. We're fully dedicated to working with the team, its fans and the Chicago community to build a championship franchise." And then you added, "But most importantly, I'd like to thank the Chicago Fire fans for consistently lending their support and enthusiasm, as well as demonstrating their passion for the players and the team at every single game."
I am one of those supporters who lends their support and enthusiasm, as a volunteer for Section 8 Chicago, the Independent Supporters' Association for the Chicago Fire Soccer Club.  Like many others, I spend countless hours each week working to develop the passion in the Fire's fanbase. Our mission is "to unite all Chicago Fire fans, to create a dominant in-stadium force unseen in any American team sport and to establish a home-field advantage whenever the Chicago Fire play."
Since Peter Wilt was absurdly fired by the club in 2005, the many who have contributed their time to this effort have had some difficult times dedicating ourselves to developing that support.
We have instead been distracted by the club's attempts to target supporters for pat-downs, by racist security guards, by unpaid ticket commission from the club to supporters which meant we had to threaten to sue the team(!), and by the fact that the front office somehow mislaid a 80 x 25 yard banner worth $8,000 that we paid for and the Fire were storing for us (by the way, we still haven't received the check for that). Though our working relationship has improved this season, rightly or wrongly few supporters feel those in charge of the club understand what we want to build here, and perhaps even more alarmingly, what you said you wanted to build here.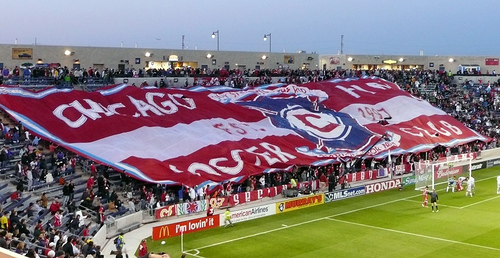 Shit happens, of course. I'm sure we don't make things easy for the folks working for the Fire at times either, what with pyro going off occasionally and the odd middle finger going up from a fan — the kind of stuff any club worldwide who wants a vibrant fanbase has to find ways to handle. Like me, I'm sure you saw and heard worse in England!
Of course, we've tried to pro-actively deal with these issues, though your leadership in Chicago hasn't been able to help out too much. Unfortunately, the important principles of friendly treatment to your loyal supporters, and great customer service to casual fans, has not been attained often enough lately. This might be one reason why attendance is down this year.
I don't want the Fire to end up like FC Dallas, alienating its fanbase completely and seemingly awaiting euthanasia. There, an open letter of a different sort was recently penned to their ownership by Dustin Christmann, a founder of the Inferno supporters' group, in which he writes that his frustration has led him to end his relationship with the team after fourteen years.
I don't believe we are at this point yet in Chicago, though I am afraid we are headed to it. Already, I know of dozens of fans around the stadium who are not planning to renew in 2010. These are not just the hardcore in Section 8, but the regular Joes on the sidelines and even the blue-chip rich in the club seats.
You still have some great people in the front office who work hard every day for the Fire. And man, if you could bottle and share the enthusiasm and commitment your Technical Director, Frank Klopas, has for the Fire we'd have a packed stadium every game.  When he met with us last month to plan the Fire's birthday celebration today at Toyota Park, his passion was worthy of that plaque in the tunnel to the stadium.
Indeed, it's because we still believe this Club can be great — can be a Club, not just another American sports franchise, thanks to the roots it has set down in this great city since 1997 — that myself and many others organised and are excited for the twelfth anniversary celebration tonight. I think it's also why you bought the Chicago Fire in the first place.
But if we are to be there again for the thirteenth and the thirtieth anniversaries, we need you, Andrew, as the Chairman of this Club, to ensure the direction of the Fire follows the philosophy founded in 1997 and upheld by supporters, players and staff since. Some parts of the club, like the outstanding player development program, continue to embody that ethos. But it needs to permeate every inch of Toyota Park and that comes from the top.
We are trying to help the club to instantiate the ideals of tradition, honor and passion in a way that ensures they are a permanent part of supporter relations. That's why a year ago, we resolved to move past the problems in years gone by iterated above — the issues with security, unpaid commission, poor customer service — by working with your leadership here to jointly develop a Club Charter to be agreed on by mid-season 2009. A document that would establish the principles of the club and provide practical avenues for problems to be solved before they blow up in all of our faces. To make Chicago the leader in MLS supporter-relations and ensure we reach the next level that both Section 8 Chicago and yourself have committed to taking this club to. Your leadership here said they shared that goal, but unfortunately, it hasn't been met — even though we submitted our draft to the front office six months ago.
I don't know if you will be at the party tonight, but if so, let's set a date to sit down face-to-face to discuss this. Our board has been available all summer to meet with you, but unfortunately we haven't had a chance to do so. Whether it's the fault of the leadership here or not, the failure to develop a Club Charter as promised is one important issue we can resolve that is preventing us from taking off from the runway you like to talk about.
Some fans don't like that metaphor, but I actually do. There is a long way we could go together as a Club. What matters more than words from you or I is actually making it happen. Please sit down with us, and let's get to it. I'm willing to fly out to LA anytime to discuss, and am always available in Chicago.
Here's to twelve years of the Chicago Fire, and making the next 100 great.
Cheers,
Tom Dunmore
Vice-Chairman, Section 8 Chicago, the Independent Supporters' Association for the Chicago Fire Soccer Club
Member, WB05