The Dripping Pan: no-one seems to know quite why, but that's the name of Lewes F.C.'s home ground, and it sure beats the Emirates for evoking the curious and archaic history of British football. On Saturday, I watched East Sussex's county town take on Havant & Waterlooville Football Club in the Conference South (known for sponsorship reasons as Blue Square South), no less than five tiers below the Premier League.
Lewes F.C., founded in 1885, merge a long history of plying their trade in the low reaches of the English football pyramid with a visible ambition to move on and up: two modern, covered terraced stands fill half the 3,000 capacity ground, with the old sloping grassy banks of "the Pan" only visible now on the other two sides (below, the away fans from Havant on the sloping side, with their mysterious flag reading "Let's go 4 a little walk").
"We are top of the league, say we are top of the league!"
By the second half, Lewes' fans were loud and jubilant: cruising to a 4-0 victory and sitting merrily atop Conference South means that they could well head to the giddy heights of the Conference National (officially the Blue Square Premier) by next season (below, the main home terrace — in non-league football, standing is still allowed).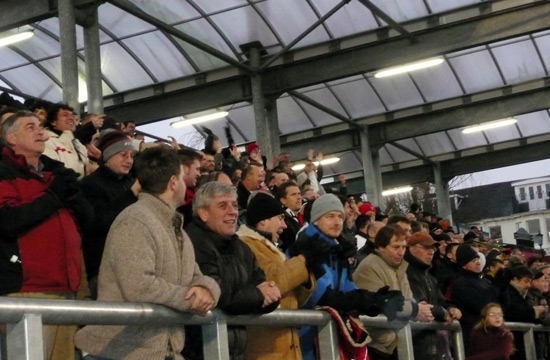 By the end of the game, the floodlights were lit and the Dripping Pan seemed successfully to have merged the historic value of a local team with the upward mobility that might see them soon nipping at the heels of "proper" league football. The question is whether the Dripping Pan will lose the remainder of its charm in the process of moving up — it was delightful to sip a pint of Harveys real ale, brewed just up the road, from the bar that overlooks the pitch during the game. One can even stand on the terrace and sup a pint, a joy that will be lost if Lewes do ultimately win enough to lose their non-league status.
Note: A rather different and longer version of this article was published in the Chicago Sports Weekly.