The Bet365 betting app means that you never need to miss out on an opportunity to place a bet, even when you're at work or on the go. It's fast, intuitive and offers the same outstanding features as the Bet365 website including the in-play markets and live streaming, so you can be sure of seeing plenty of great sporting action wherever you are.
Here's everything you need to know…
---
How to download the app
iPhone users can download the Bet365 betting app straight from the iTunes store. It works on iOS 6 or higher, so it will be fine even on older handsets.
Android users will need to go to the Bet365 site using their mobile device. At the bottom of the homepage there is a link which says "View all Bet365 apps".
Click on this and you will be able to download the Bet365 betting app.
This is different from the Bet365 news app, which is available in the Google Play store. You'll need to ensure that you allow your phone or tablet to install apps from outside the Google Play store. This is usually done by going to Settings > Security and then ticking a box which says something like "allow apps from unknown sources".
The Bet365 betting app is also available for Windows phones and tablets and even Blackberries, so everybody can get in on the fun.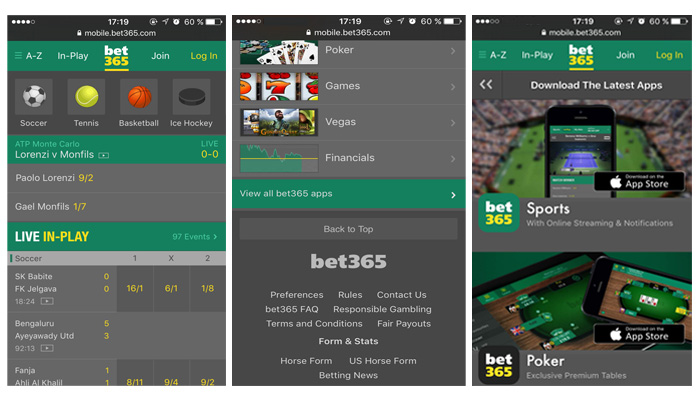 How to use the app
Users who've already spent some time on the Bet365 website will find themselves using the Bet365 betting app without a second thought. Anyone new to Bet365 will feel like a seasoned gambling pro in no time as the Bet365 betting app, like the Bet365 website, is designed to be completely intuitive to use.
You just log in using your details from the website (or create a new account) and follow clear and logical paths to find whatever it is you want, whether you're looking to place a bet, check your account history, make a deposit or withdrawal or anything else.
Just as importantly, the app is designed to be easy to use on smartphones and tablets. So, for example, the buttons and links are all large enough and clear enough that you can easily see what you're doing even if you prefer to use a smartphone with a smaller screen.
The Bet365 Bonus Code
Anyone familiar with Bet365 will know that they pride themselves on the fact that their customer care is second to none.
They want to make their customers happy and they know what to do to make that happen. For example, people who use the Bet365 betting app can expect to get plenty of bonus codes. Obviously there's a bonus for new users, but Bet365 believes in rewarding its regular players too, so expect your bankroll to get regular boosts with bonus codes to suit you.
For a full recap on available bonus codes, read on here.
Bet365 App Markets
Of course, looking good and having great deals is all very well, but only if you have the content to back it up. Fortunately anyone using the Bet365 betting app will find themselves spoiled for choice.
First of all, the Bet365 betting app gives you access to the same markets as on the main Bet365 website.
This features in-play markets including:
Football
Cricket
Rugby
Horse racing
…
There are two main ways you can keep on top of what's happening:
One is to use push notifications, which is great when you have to watch your data or when you're simply struggling to get any sort of decent connection to the online world, for example when you're on a train without Wi-Fi (or without decent Wi-Fi at any rate).
The other is to make use of Bet365's live-streaming service. As with any streaming service, this requires a decent online connection, so you will either need Wi-Fi or the ability to download plenty of data smoothly. As well as showing all those key soccer matches you simply can not miss, the Bet365 betting app offers live streaming of horse racing from both the UK and Ireland along with tennis and basketball.
Casino/Poker on the Bet365 Betting App
For those who want a bit of variety, you can also access the casino, games, bingo and poker from within the app.
Poker players in particular will be pleased to know that you can have full confidence in the app's stability.
As long as you have a decent internet connection and you've power in your mobile device, you can be sure of getting a decent game without any worries that the app will freeze or crash.
Get the most of the app
To help you decide what bets you want to place, Bet365 puts plenty of helpful information at your fingertips. Whether you want to read up on the football news or check out the form of a horse you think might be worth a bet, you'll find what you need quickly and easily.
Manage your account
You can manage your account through the app too, so you'll never be left fuming at an opportunity you've missed because you couldn't get to a computer to make a deposit. Likewise when you do make those sweet wins, you don't have to hang about till you're back in front of a computer to get your hands on your money.
If you can't remember whether you actually did place that vital bet, then just look in your account history to make sure.
Customer service
In the unlikely event that users do experience any issues with the app, or any other part of Bet365's service, then there is a dedicated customer-service team who are both willing and enabled to help you. They're easy to reach online or by phone.
Once you've downloaded your Bet365 betting app, you'll also be able to stream sports via live stream. Have a look at our guide to Bet365's live streaming.